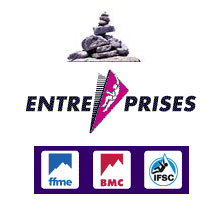 The worlds largest artificial climbing wall manufacturer are looking to fill the following position:

Southern Area Chief Technician
Entre-Prises, an ever expanding and dynamic company, design and manufacture climbing walls, caves, ice walls and other adventure facilities. You would be working with a young dynamic team, dedicated to supplying the best climbing walls in the world. Each climbing wall is unique, every project represents a new challenge. Projects take place all over the UK and increasingly around Europe and the rest of the world.
Principal Duties
• Manage the total installation of small projects on site.
• Servicing, maintenance and testing of climbing facilities.
• Route setting.
• Assist with the installation of larger projects on site, occasionally working abroad and with main contractors.
Other duties may include:
• Manage all Health and Safety issues on site.
• Responsible for site tools.
• Responsible for site vehicle.
Skills and general experience
• Excellent communication and leadership skills.
• Good time keeping and time management skills.
• Working at heights/climbing experience essential.
• Driving licence essential.
• MEWP/ PASMA/Certification an advantage, although training will be given.
• Prior experience of working in construction industry essential.
• Detailed knowledge of site Health and Safety.
• Experience using small power tools.
• Ability to understand and work from complex installation drawings.
• Basic computer literacy – word, excel etc.
• Wood working skills would be a considerable advantage.
The position is full time and is located in the South of England.
Leave:
5 weeks per year plus bank holidays
Hours:
40 hours per weeks. On site times will vary as required by the job and will include occasional
weekend work.
Salary:
Competitive depending on skills and experience – Mobile phone, laptop and camera.
Bonus:
Annual profit related bonus
Pension:
5% in addition into a company pension scheme
Sickness:
5 days paid
Vehicle:
A suitable vehicle to match the technicians needs will be supplied.
Tools:
All standard tools necessary to complete the work will be supplied.
To apply forward covering letter and full CV by post or e-mail.
Closing date 17th October 2008

For further information please contact Diane Foxcroft – HR Manager.

Entre-Prises (UK) Ltd
Eden Works
Colne Road
Kelbrook
Lancs
BB18 6SH
Tel: 01282 444800
Fax: 01282 444801
e-mail:
dfoxcroft@ep-uk.com