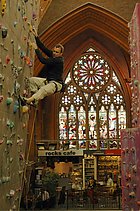 Manchester Festival of Climbing is running Saturday 28th February and Sunday 1st March 2009. There's fun to be had for everyone, including...
Chris Sharma Lecture
Chris entertains with tales of his climbing exploits around the world. 7pm, Sunday 1st March. Tickets £10 and available NOW from MCC.
Five Stars Everest Challenge
Teams of 6 compete to climb the highest, equal the height of Everest, and raise money for a great cause. Spaces are still available, please see
http://www.fivestarseverest.org.uk/
for details on how to get involved.
Masterclasses
Run by top UK climbers and
Evolv
team members Ben Bransby, Leah Crane and Dave Barrans. Improve your technique and push your grade in these FREE masterclasses running throughout the weekend. Spaces are limited and are on a first come, first served basis. Call Naomi on 0161 2307006 to reserve your place!
Kids Bouldering Competition
Running Saturday 28th February 12-3pm. Anyone under 16 can come along and test their skills, with prizes to be won! Remember, MCC entry for under 18's is always a bargainous £5!
Speed Climbing Comeptition
Running 10-2 Saturday and Sunday, and open to all ages.
Dyno Competition
Running Sunday 1st March 3-6pm.
The Nemesis
Test your climbing skill with the super hard boulder problem, set by John Dunne himself. First person to climb it gets £100 cash! Running from 12 til it's done on the sunday!
Evolv Boot Demos
Running 11-4 on both days, come along and try out the latest shoes!
This event is being held in partnership with Evolv, Prana and Metolius who will be providing prizes for all events, so come on down and have a go!
MCC will be open for climbing as nomral over this weekend, but closing at 6 on the Sunday in preparation for the evening lecture. Anyone who comes down to the centre over the weekend will be given FREE MCC LIFE MEMBERSHIP (usually £15). What a bargain!