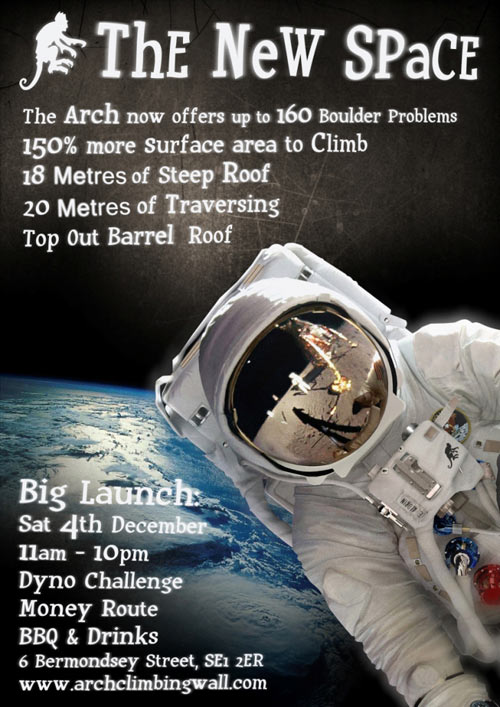 After many months of work & planning, The Arch is now very nearly ready to open up the new areas to everyone. There will be lots of walls with top outs to simulate bouldering outdoors, interesting changes of angles, barrels, a 5% slab, a 35m traverse wall, a kids area & finally the long awaited cave & roof, which runs for a length of 18-20 metres and up to a height of around 5 metres! To kick off the new areas on the 4th December opening, we have got a great line up of guest setters in, Steve McClure (on the big roof!), Gaz Parry, Andy Earl & Chris Graham in the front area, as well as our usual in-house setter Yann (fresh back from a setting workshop with Jacky Godoffe himself).
The new areas will increase the size of The Arch by something like 150% and will hopefully mean that we can offer something to everyone, whether they are after long sport-style routes, traversing, or (what we do best) quality bouldering problems of all grades and styles.
Please come and join us for the opening celebrations on Saturday 4th December, starting from around 11am. We will be having a few drinks later and (weather permitting) some barbecue too later on during the day, so everyone is welcome & we hope you enjoy the climbing! Thanks!
(See all the pictures at
www.archclimbingwall.com
)