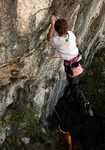 Those of us who thought Adam Ondra was the ultimate whizz-kid of climbing, well perhaps we need to think again, cause last week 14-year-old Enzo "Zozo" Oddo climbed his 3rd 9a in less than 2 weeks!28 Aug: SanKuKaï, 9a, 3rd ascent (after Gabri Moroni)4 Sept: PuntX, 9a9 Sept: ChochoLocco, 9a, 2nd...
Read more at http://www.ukclimbing.com/news/item.php?id=54743
Some of these replies were posted on Björn's old blog website, and so won't be from registered UKC users
keu on 28 Sep 2009 - thelowdown-blog
When comparing to the best of the world, no, 3 14ds doesn't matter as much. That's the point, "idiot."
keu on 28 Sep 2009 - thelowdown-blog
But there is a difference. Ondra: Action Directe, Open Air, La Rambla, and on the blocs Dreamtime, and first in the Jr. World's, and first in adult world circuit comps. It is one thing to play some complex piano pieces quickly, with dexterity, even virtuosity. But can you play the Beethoven? The Chopin? The Rachmaninoff? And do so on the world stage? Then we start paying attention.
gian on 28 Sep 2009 - thelowdown-blog
aside from the debate about "who's the strongest" I'm curious to see what these guys will do when they get in their twenties...

does the rise of (relatively) many wonderkids mean that climbing is a sport for teenage bodies?

or is it simply that they are the first generation of "climbers' sons", so their full potential is yet to come?


btw. in the video, the guy doesn't look too close to the real limit of what he can do. far from looking "perfect"...impressive.
Andy on 28 Sep 2009 - thelowdown-blog
wait till his weight matches his finger size and he discovers girls.
Then we'll see if he has what it takes...
Anonymous on 28 Sep 2009 - thelowdown-blog
Anonymous on 28 Sep 2009 - thelowdown-blog
Yeah, three 9a's is nothing where I come from!

idiot
Anonymous on 06 Nov 2009 - thelowdown-blog
keu, Ondra achieved all that at age 14?
nicolas on 08 Apr 2010 - thelowdown-blog
you guys are crazy!!!
i remenber the same comments about onra a few years ago...what now? 9b !!!
this kid is kickin ass. and he has the warrior spirit.4 9as at 14: never done before!!! big up for enzo
and the rest:wait and see
MG on 17 Apr 2010 - thelowdown-blog
hah for all those thinking negative... what the hell?!!! those people that comment on articles can get really dumb
Marc Germani on 17 Apr 2010 - thelowdown-blog
it's the first time i see this guy on a video (or photo), i can really tell that he will push the limits of climbing so far, and he will stay alone at this level for some years. Adam Ondra says that he's basically weak. i can tell from the body of this guy, that he's really strong!! he's full of power. i really loved the video, and i am totally impressed by his simplicity of climbing.