| | |
| --- | --- |
| | / NEWS: An Interview with Stew Watson |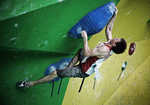 Those of you who have been following this year's competition scene may have noticed one man's name cropping up time and again. Stew Watson.
Stew is currently the UK's top competition climber, with a string of fantastic results in the 2010 bouldering world cup which placed him in sixth place overall.
That's sixth in the world...

Read more at http://www.ukclimbing.com/news/item.php?id=57507
In reply to
UKC News:
great to see a top climber just having fun and a good time with climbing
In reply to Owain:

in that case im glad no one gives a f*ck what your opinion is,

how many 8c+ have you climbed? it must be load cos this pussy indoor climber has only climber a couple.
In reply to Owain:

Once again demonstrating why UKC gets a bad rep. Well done.
In reply to
UKC News:
Can Owain's post just be removed? Really not needed on this news post.
Well done Stew! Wish I had started climbing at the age of 4.
In reply to
AndyJBooth: I started climbing when I was 3 but I've never led harder than E3 - starting early doesn't mean you'll climb harder!
---
This topic has been archived, and won't accept reply postings.