| | |
| --- | --- |
| | / Ben Nevis summer rock climbing |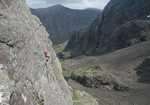 Top climber Dave MacLeod takes a look at Ben Nevis in summer:
"Ben Nevis is as big as it gets in the UK in many ways. But although its scale is often the first detail mentioned about the mountain, it is really the nature of the place and it's climbs that stand out most..."

Read more at http://www.ukclimbing.com/articles/page.php?id=2219
In reply to
UKC Articles:
The Bullroar (HVS 5a) - Amazing positions and immaculate rock
Er, no! Seriously, In about 7 years of climbing I had my closest brush with death on this route. "Immaculate" is NOT a correct description for the rock. I very nearly crushed myself and my belayer under a block that must have weighed a minimum of 200kg. It was in the centre of the climbing line by the 2nd belay I nearly pulled it on top of myself on lead and then sent it on it's way with the lightest of touches on second.
I've only done a few of the bens summer lines and they are without doubt superb lines which deserve to be done more often (and trundling is great fun when you know which blocks to avoid on lead). But it isn't a good idea to lead anyone to believe that the rock there is wonderfully solid - there are loose blocks because the face is subject to significant frost shattering over a LONG winter and a general lack of summer ascents means loose material does not get pulled off so often.
In reply to
henwardian:
ooo i'm glad i read your post cos i want to do that one soon.
In reply to
Naedanger:
> ooo i'm glad i read your post cos i want to do that one soon.

It's a great route. Good luck and get a shift on, the summer is nearly over! :D
---
This topic has been archived, and won't accept reply postings.