| | |
| --- | --- |
| | / NEW ARTICLE: Dynamic Belaying for Sport Climbs |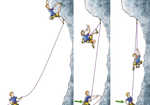 Ever wondered what people mean when they talk about "dynamic belaying"? This article describes how you can use dynamic belaying to belay more safely and to protect your rope. It is taken from the book
Sport CLIMBING +
published by Rockfax in 2006.
Read more at http://www.ukclimbing.com/articles/page.php?id=1844
In reply to
UKC Articles:
Better retitle this article as 'Dynamic belaying on sports routes'.
Some trad climbers could otherwise get things seriously wrong, specially newbies.
In reply to
UKC Articles: Nice article, would it be possible to add a paragraph on dynamic belaying for trad climbing?
In reply to
Brendan:
here's one. It's a bad idea to use the dynamic belaying described in this article for trad climbing because it relies on standing away from the base of the cliff. Many gear placements will not hold with the outwards force this would place on them. Dynamic belaying can be useful for trad climbing, as it can reduce the load on poor runners, making them more likely to hold. It is best acheived with a well-timed upward jump as the leader falls (assuming the landing zone is safe for the belayer if the gear rips). If the gear rips the belayer will land on his arse on the ground. Try not to drop the leader in this case, as that rarely helps.
In reply to
Mick Ryan - UKClimbing.com:
Thanks Mick, title sorted now.
In reply to
midgets of the world unite:
Cheers, maybe Mick could add your paragraph to the article? But I'd like to know, can you use a dynamic belay like the one described in the article if you're confident the first piece of gear has been placed so that it won't pull from an outwards force?
In the article:

"The more slack there is in the system, the further the climber will fall before the rope can start to do its job and the more *force* will need to be absorbed"

Surely that's energy, right? What with the force on the climber being generated by the rope as it stretches. Hence a rope can have a max impact force, regardless of distance fallen?
---
This topic has been archived, and won't accept reply postings.