| | |
| --- | --- |
| | / NEWS: EXCLUSIVE FRI NIGHT VID: Sender Films - Nick Martino |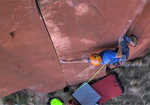 Sender Films have just released their 'First Ascent' Box Set. This 6 episode mega-DVD has well over 3 hours of climbing footage including the now legendary Alex Honnold 'Alone on the Wall' and other top stuff, you know, like BASE jumping down the Eiger and other tame action...
Anyway, here we have some previously unreleased footage from Sender Films. This clip is of Nick Martino and is included on the DVD Box Set in the extras, but was never shown when the original episodes came out.
You get to see it first on UKC!
Read more at http://www.ukclimbing.com/news/item.php?id=58512
In reply to
UKC News:
Crazy jump left. Good video clip!!
In reply to
UKC News:
Bought this last week, one of the best DVD sets I've bought. Worth mentioning that it's 3 DVDs as people will think £30 odd is expensive for 1 DVD.
In reply to
UKC News:
I like the way he changes his shoes halfway up!
In reply to
UKC News: that does manage the trick of making the climb look almost as hard as it (probably) is.
Not an easy matter; I find that most climbing looks about HVS on film even though I know that it's way tougher than that. I think that this clip is helped by the rock being so obviously smooth and holdless, so you can see what little there is to go for.
In reply to
UKC News: I should add that the previews are selling the film to me quite a bit!
I think I'll go the download route. Does anyone know; is there a guarantee that the downloaded format will play on a TV connected to a USB hard drive (I normally watch .mp4 HD files no problem but haven't downloaded a commercial file before). I don't want to be restricted to watching it via a PC screen.
In reply to
UKC News:
An inspired piece of climbing. What a fantastic looking route.
Love the bit when he starts dropping the gear. Not sure abut the advantage of the 'quickdraw' approach. Looks like it's pumpy just pulling the gear of his harness!
---
This topic has been archived, and won't accept reply postings.