| | |
| --- | --- |
| | / NEWS: FRI NIGHT VID: Get Naturized |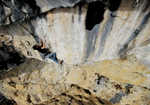 In tonight's 16 min film from Berni Kogler we see
Roland Hemetzberger
climbing
Das Erbe der Väter
F8c+ (Schleier Wasserfall / Austria),
Markus Bendle
r climbing
Update
F8c (Waidringer Steinplatte / Austria) and
Andi Kronthaler
climbing
Sarajevo
F8a+ (Isili / Sardinia).
There's also a bit of bouldering...

Read more at http://www.ukclimbing.com/news/item.php?id=57862
In reply to
UKC News:
I like it! No idea what the dude running with the record is all about thought. Still very good!
dont like to be a dick but way too pretentious, the filming from the actual climbing is so "artistic" that you cant actually see it too well.

sorry
In reply to
Scarab:
One thing that annoys me is showing the "hand on the brake" belaying with a gri gri in so many of these climbing videos...It's like not wearing seatbelts in action movies. Sending out a wrong message!
In reply to
UKC News:
I loved it! great production, great music and good climbing, could have done with a bit more I guess. Thanks UKC! didn't watch it friday but watching it today at my desk while bored out my brains as im in work on a local holiday so guess what no one else is at work!! ARG!
---
This topic has been archived, and won't accept reply postings.