| | |
| --- | --- |
| | / NEWS: FRI NIGHT VID: Philippe Ribiere - The Evolution Tour |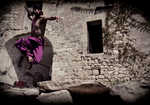 In 1994, Philippe Ribiére discovered climbing.
Born with the Rubinstein-Taby syndrome this was even more of a challenge than for the rest of us, but he discovered that climbing could turn his disability into an asset and that it could pave the road toward complete social integration and recognition.

Read more at http://www.ukclimbing.com/news/item.php?id=56162
In reply to
UKC News: Met this guy in Val di Mello one year. A real zest for life! An inspiration to us all.
In reply to
UKC News:
What a great vid. Puts a lot of things in perspective.
KA
on 05 Jul 2010 -
88-110-162-177.dynamic.dsl.as9105.com
In reply to
UKC News:
Sorry, doesn't matter to me whether this guy has a handicap or not, this clip is boring. The filming is really disjointed, flashing from one view to the next, repeating scenes again and again, the music is irritating and it really doesn't do it for me. Gave up after 5 minutes.
In reply to
KA:
Well done KA, a really positive inspiring story and you manage to find something to criticise in the cinematography.
Congratulations.
---
This topic has been archived, and won't accept reply postings.