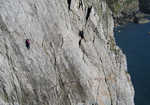 The sea cliffs of Gogarth, situated on the western tip of Anglesey are the stuff of legend. These beautiful and atmospheric crags have been a key destination for each generation of climbers since they were first discovered in the mid 60s.
Famed for its adventurous and occasionally serious climbs, Gogarth definitely suits the competent and experienced although Rhoscolyn and a number of the crags spread along the north coast of Anglesey provide a less committing option.
Guidebook author Simon Panton gives us the full low-down in this comprehensive article...
Read more at http://www.ukclimbing.com/articles/page.php?id=1850
In reply to
UKC Articles: good article, i think the main thing about sea cliffs is fear of the unknown, good article though, hopefully a weeks climbing in the summer out on Gogarth then!
In reply to
Jimbo MSider:
Great article Simon.
Thanks again
Kevin
In reply to
UKC Articles:
Great article,
wanna go, wanna go,wanna go!
Always did, but even more now. Having been saving it til I feel good enough.
It's an old argument, but IMO if you're going to go out of your way to tell potential first-time visitors to wear a lid at Gogarth (a practice which I'm totally support of, having seen a young guy cartwheel down Wen Slab a few years ago after pulling a loose block off Ddu), choosing pictures to back up your point might be a good idea. Not counting the boulering pic, but including the guidebook shots, I made it 5 helmets out of 15 climbers pictured (feel free to re-count, some of the pics are small!). Nothing new, but a clear disconnect and presumably (for some bizarre reason) deliberate, given the potential wealth of photos at the author's disposal?
In reply to
Snorkers:
I doubt the pics were deliberately picked to show climbers without helmets on!
In reply to
UKC Articles: Great article Simon, thanks for that.
Nice work on that too Kevin.
Loved the photos, and love the crag too. Really thought that the shot of Dream was spectacular, and that video still of Hollow Man was great too.
Not so sure about Streaky's shirts!! ;-)
My favourite thing about Gogarth is the awkwardness of conditions. It kind of means that it's really hard to get some routes dry and climbable, but when you do, it makes it even more special.
Jack
In reply to
ClimberEd:
Yeah, I know - it sounds daft. But what's the point in writing a lengthy, informative article and then undermining the text with contradictory pictures?