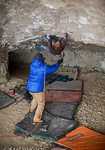 Not exactly news perhaps, as it happened in March last year, but none the less unknown to most: Mr Nicole, Fred this time, has put up L'isola che non c'è (Neverland), 9th grade (~5.15) in the Amden cave, St. Gallen, Switzerland. The route is around 15m, 12 of which are pure roof climbing. It begins...
Read more at http://www.ukclimbing.com/news/item.php?id=54569
Some of these replies were posted on Björn's old blog website, and so won't be from registered UKC users
Anonymous on 02 Feb 2010 - thelowdown-blog
Nice. I only wonder how many minutes it will take until this news appears in 8a.nu. There is a copycat out there!
m on 02 Feb 2010 - thelowdown-blog
It's not "THE" rocklands... just ROCKLANDS...

just like it's not The Font, The Hueco or The Bishop...


@ Anonymous: Yeah I know, but there ain't much I can do about it...
@ m: Thanks, I've changed it.
Anonymous on 02 Feb 2010 - thelowdown-blog
Well Jens appears to have an ability to make people delete things he doesn´t like. May be he will realize the bad-ethics-issue about following your blog instead of looking for the news himself and stop doing it.
Anonymous on 02 Feb 2010 - thelowdown-blog
as up-climbing writes "...The route took a year's work" - must be pretty hard if fred has to work on a 15m-"boulder"-problem on and off for a year...
Anonymous on 03 Feb 2010 - thelowdown-blog
martin on 03 Feb 2010 - thelowdown-blog
@anonymous: well THATS bit childish, isn't it?! "copycat" for news???!!! thats exactly how it works world-wide!!! worldwide-news in the "non-climbing-world" are mostly transported via news-agencies to newspapers/newsportals and so ALL the major newspapers have mor ore less the same news to talk about. the DIFFRENCE is not what news are on, but HOW you discuss it (and that you post the source). and thats what i like more on this blog than on 8a.nu.

ANYWAY - even more childish/funny is that jens now is not posting anything about freds "new" route... (despite this coud well be one of the very hardest routes in swizzy/world!!!) - looks like he has to proove not to be a copycat - welcome to the kindergarten ;)
I don't think using the news as such is a problem, never ever linking to the source (even if it's a secondary one) is however. I can live with it though. ;)
Anonymous on 03 Feb 2010 - thelowdown-blog
Well Martin, I guess you are right and I´m a bit childish but I don´t mean 8a sholud be at all crags reporting directly. I know how news are reported, believe me.
I only think it´s a bit funny that several news across the last days folowed exactly the same order in The Lowdown and 8a.nu, that with a delay of minutes in Björns favour. It seems very much like someone is watching this blog and just copying here but referring to the original news.
You might agree that there is a big difference between investing a lot of time to put a lot of hot news together from many differens sites and just watching the one that makes the job, then copying and referring the sources as if they had done the actual job (and by the way callim themselves the bigest climbing site ever).
Actually my comment was kind of a test to see if 8a would interrupt the "stream" och suppousedly copyed news. As you confirmed they didn´t report which could indicate something.

Nice blog, by the way
Anonymous on 03 Feb 2010 - thelowdown-blog
weren´t you at one point the anchor man at 8a.nu? what happened? are you still involved with 8a.nu?

- joe
Björn on 03 Feb 2010 - thelowdown-blog
@ joe: No, I'm no longer part of 8a.nu. Haven't been for a year or so (the recycled articles appearing on 8a.nu lately are several years old).
martin on 03 Feb 2010 - thelowdown-blog
yep it stopped, and thats whats really childish - it shoud be clear that if you take and print news to be honest with your sources... but well, thats may the same as jens delivred "news" with personal statements witout commenting them as "editorial". at least thats (kind of) better now.

...may björn shoud build arround thelowdown kind of a better alternative to 8a.nu - what he has allready done in the news-sector ;)

greets, martin

ps: i know - my "blog" is the KILLER ;)
indigo on 04 Feb 2010 - thelowdown-blog
@martin: yep, killercat blog I follow...