| | |
| --- | --- |
| | / DESTINATION GUIDE: Petrohrad - Czech Bouldering Paradise |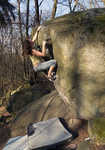 Sixty kilometres west of Prague lies a beautiful area of rolling hills...
"There are thousands of problems in this area with a huge potential for more development. The rock is exceptional quality grey granite with high friction and a huge variety of climbing styles. The grades vary from the very easy to the near impossible. Adam Ondra climbs here often and there are many high standard boulder problems up to Font 8B, many of them opened by Ondra himself..."

Read more at http://www.ukclimbing.com/articles/page.php?id=2666
In reply to
UKC Articles:
Thanks, a very useful article. It only 50 miles from my current second home near Teplice, where I will to move to full-time soon.
Jiri, is there any nearer bouldering for me on volcanic rock? I've seen the cliffs at Boren but are there any good boulders there?
Chris
In reply to
UKC Articles: Looks awesome... I'm thinking end of this summer.
Cheers, really useful.
Will
In reply to
willoates:
yep, nice article - close-ish to me in Munich, so I will be planning a trip there this spring
cheers
lost
In reply to
UKC Articles:
Looks brilliant!
Is it possible to get round by public transport once you're there?
James
My mum and dad gave me the book for birthday to try and get me to come over to czech more often. The climbing looks sweet... if a bit green. Also, apparently, "using of poof is prohibited".
Does anyone know if the grades used are Font? Scoured the book but this isn't stated anywhere and I'm not sure what the convention is in czech.
---
This topic has been archived, and won't accept reply postings.