| | |
| --- | --- |
| | / NEWS: Sport Climbing Round-Up - Ondra On Fire |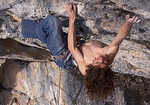 The last few weeks have seen a number of big ascents in the world of sport-climbing, particularly from the younger generation.
First up is Czech "boy-wonder" Adam Ondra who appears to have started 2009 with much the same conviction as he ended 2008! In the final week of February Adam on-sighted the route Metaphysique Des Tubes, F8c on the beautiful tufa-clad walls of Seynes...

Read more at http://www.ukclimbing.com/news/item.php?id=46367
In reply to
UKC News: 'Ondra On Fire', Isn't he always!?
In reply to
UKC News:
Good work!
Just makes me wonder how far will sport climbing be pushed in upcoming years?
James
Probably old ground - but to what extent does their youth actually help them?
I'm thinking in terms of physical build, strength:weight ratio etc...
They're physically still developing, and I'm wondering as their bodies change will they plateau where they are until they've settled down?

As my hardest route is 6b, I'm in no way qualified to even contemplate this sort of climbing - but I wonder if a parallel could be drawn with gymnastics whereby post 18 many girls don't compete at the same level.
In reply to
Durbs: Basically its a massive advantage for them. I cant remember which spanish climber it was that was rather good when he was younger but he said that after his early teens he never had the same power or stamina. Basically he got muscles and became heavier.
---
This topic has been archived, and won't accept reply postings.