| | |
| --- | --- |
| | / NEWS: The coolest ice I've ever seen or climbed, anywhere in the world. |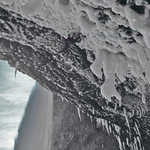 Using the internet Will Gadd has been peering into his computer screen looking for an ice version of Klondike for the last decade, and he found it at Helmcken Falls in Wells Gray Provincial Park, British Columbia.
Teaming up with Brit Tim Emmett, they climbed some of the steepest ice ever.

Read more at http://www.ukclimbing.com/news/item.php?id=51588
In reply to
UKC News: I like the map of the area. It's completely blank. In the middle of nowhere :-D Looks amazing.
In reply to
Ackbar:
> (In reply to UKC News) I like the map of the area. It's completely blank.

Zoom out.
In reply to
UKC News:
Presumably the bolts will disappear under the ice the next time the route forms?
So I'm guessing that anybody wanting to make a second ascent would have to go through the whole aiding on axes malarkey to clean the ice off the bolts prior to having a go?
I'm just curious, I'm definitely not planning a trip!
planetFear
on 01 Feb 2010 -
but77-1-88-188-168-41.fbx.proxad.net
In reply to
UKC News: The interesting thing is that according to will's blog this is only really an opening gambit. Not really a full route yet. Just that when they went back on the third day the temperature had risen & it was nigh on suicidal going into the cave let alone climbing there. So depending on how the rest of the winter goes expect more news about this or failing that there'll be more again next year. I know i for one am looking forward to hearing & seeing more about this place.
In reply to
planetFear:
The picture on that blog gives some scale...that thing is massive!
---
This topic has been archived, and won't accept reply postings.