Pongoose is a new climbing brand based in the UK; a grass roots business with innovative products made by climbers who really understand what a climber wants. The flagship product, the Pongoose Climber 700, is a revolutionary new multi-directional 3in1 clipstick, brushing stick and camera boom, that also easily retrieves quickdraws.
Who is Pongoose?
Pongoose is the brain child of Rob Rendall, a Carpenter and climber from Hampshire in the UK. He designed the Climber 700 himself and has perfected the product over a six year period from conception of the idea. He wanted to buy a clipstick but nothing on the market lived up to his standards. Being the practically minded engineer that he is, Rob knew he could make something robust, with maximum functionality and super easy to use. The unique aluminium heads and brackets are pressed and shaped in his workshop by hand to ensure that each one is of the highest quality. So, after much research and development and sleepless nights, the finished product is finally here.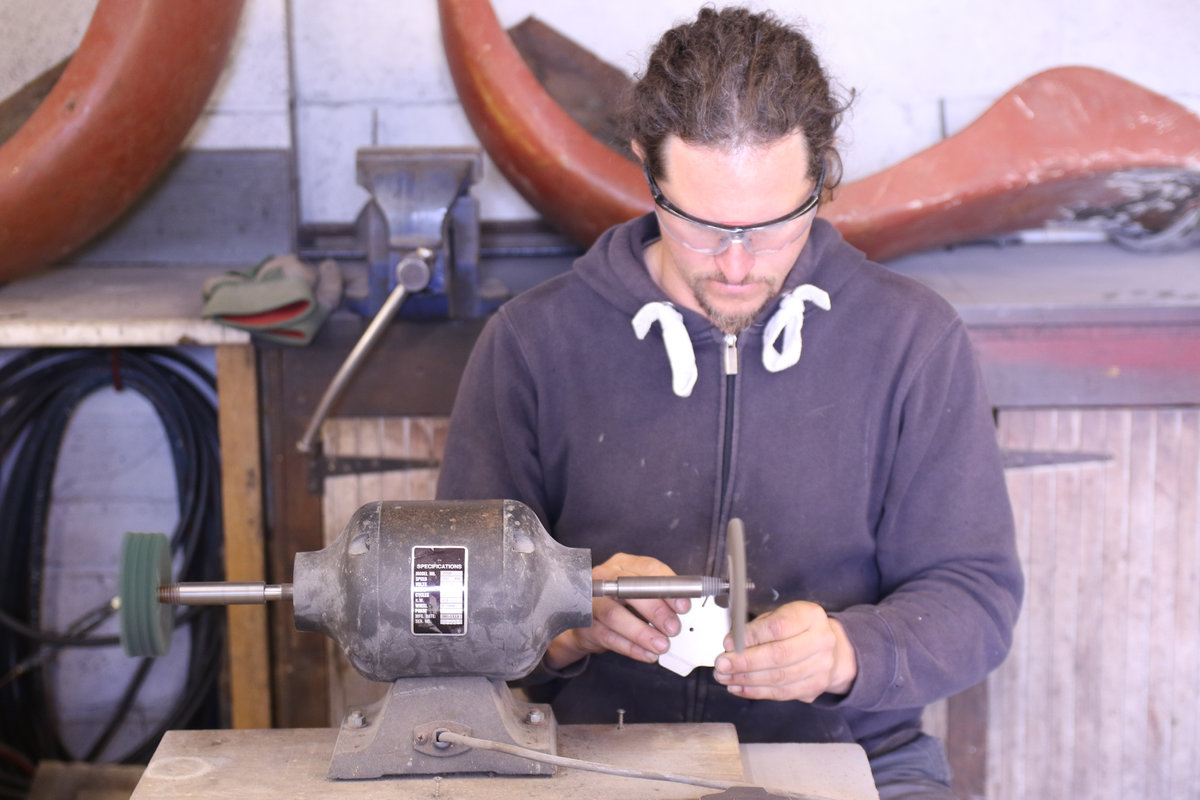 The first 3in1 clipstick, brushing stick and camera boom
The Pongoose Climber 700 is the one item that's been missing from your sport climbing and bouldering gear. You can now say goodbye to fearful lead climbing and struggling to brush high up holds, and become the confident climber you always aspired to be. The Pongoose Climber 700 is the first multi-directional clipstick and brushing stick that also transforms into an action camera boom and monopod, and retrieves quickdraws. Essentially a multi-tool with interchangeable, removable heads, you can rely on the Pongoose Climber 700 to be a go-to part of your climbing adventures. Now you can clip or brush at any angle and spend your time climbing, not trying to work your device.
Main features: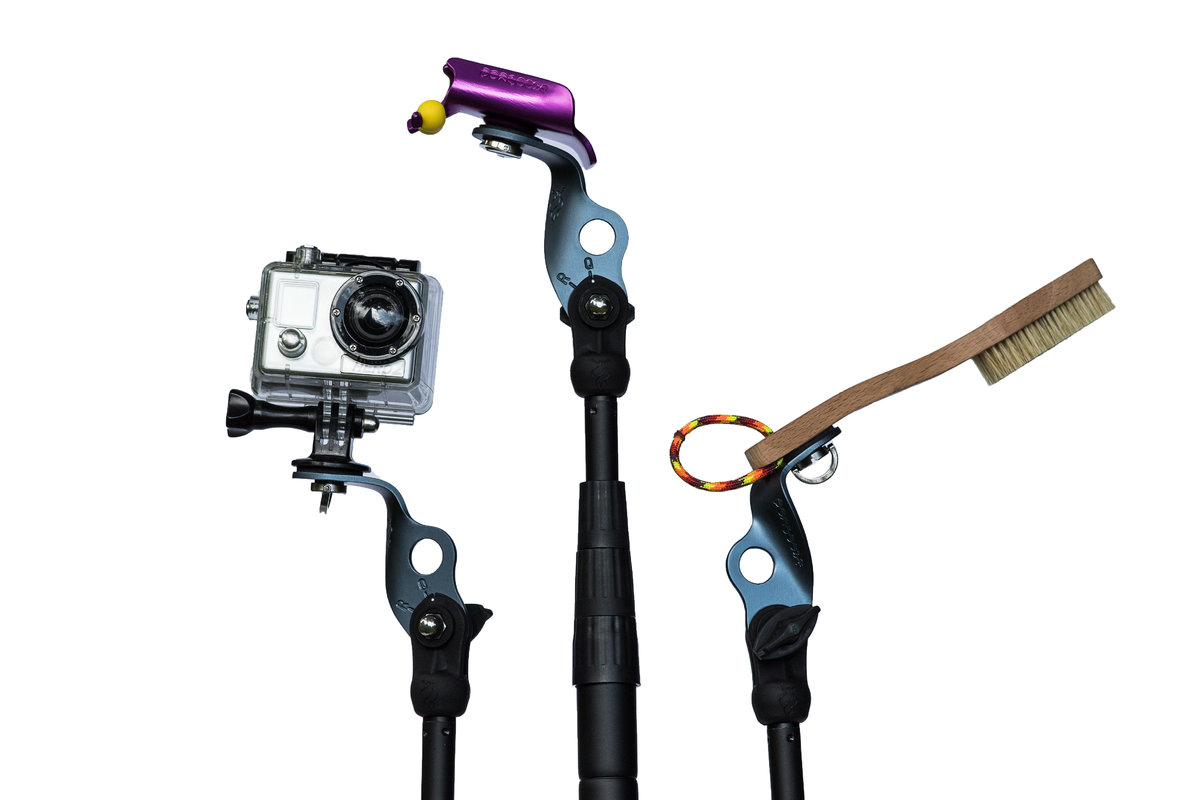 Multi-directional head and bracket that can be angled to clip or brush in any direction
Smoothly retrieves quickdraws from routes
Compatible with any quickdraw currently on the market
Solid aluminium clipstick head which securely holds your quickdraw
Smoothly and reliably clips the quickdraw into a bolt or the rope into a quickdraw
Replace the clipstick head with the adapted Pongoose brush with threaded insert for brushing holds (FREE brush included)
Replace the clipstick head with your action camera to make the ultimate filming boom, or remove the entire head unit to transform the pole into a monopod (camera not included)
Clip to your harness via the bracket to be hands-free or send up to your climbing partner to clip above a crux
Compact sized pole and removable head unit allow ease of packing in your luggage
Heads anodised in a choice of four bright, eye-catching colours; purple, orange, green or gunmetal
Mix up your colour scheme with the two spare silicone beads included
Satin anodised black telescopic pole and gunmetal bracket as standard
If you lose or damage any part of your Pongoose Climber 700 you can purchase replacement parts.
TECHNICAL DETAILS:
Extended length: 2.85m (with head unit)
Collapsed length: 720mm (without head unit)
Weight: 600g (with head unit)
Pole without head fits inside most backpacks 60L or larger
The Clipstick functions
There are three main clipstick functions you can carry out with the Pongoose Climber 700; clipping a quickdraw into a bolt, clipping a rope into a quickdraw already in the route, and retrieving a quickdraw. All three functions are easy to execute thanks to the uniquely designed clipstick head and lack of moving parts. The shape of the clipstick head means the quickdraw sits securely in an almost flat orientation, meaning you can easily hook the nose into a bolt and clearly see what you are doing from below.
To clip the rope into a quickdraw or retrieve a quickdraw, a simple bight of rope is used to open the gate and, in the case of retrieving a quickdraw, hold the gate open to allow you to lift it securely out of the bolt. To keep you hands-free, the hole in the bracket allows you to hang the pole from your harness or a bolt and send it up and down mid-route to get you through a tricky crux.
Scroll down for links to the Pongoose instructional videos for in-depth demos of each function.
The Brushing Stick function
To turn your clipstick into a brushing stick, simply unscrew the coloured clipstick head and replace this with the brush that is included FREE with the Pongoose Climber 700. The threaded insert in the handle means you can screw the brush onto the bracket either way up and secure at any angle with the camera screw. The Pongoose climbing brush has a uniquely designed shape with beech wood handle and dense boar's hair bristles that you can use with or without the pole.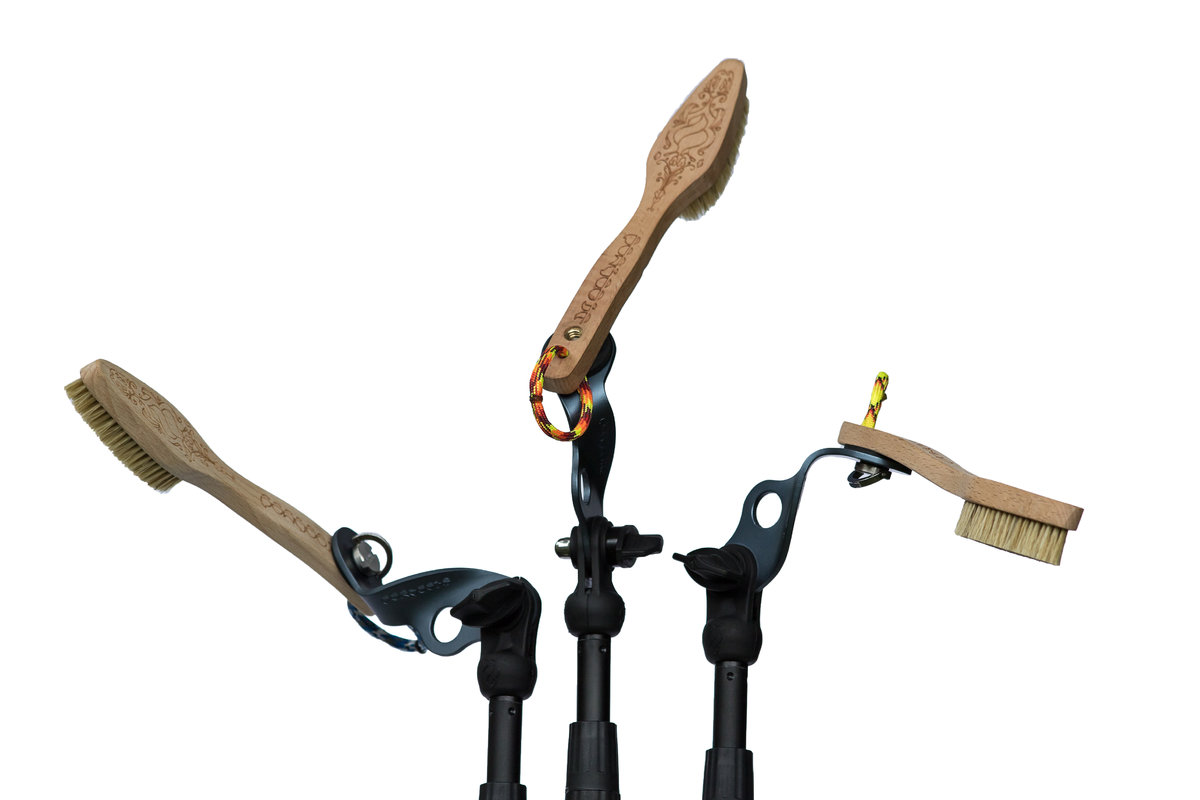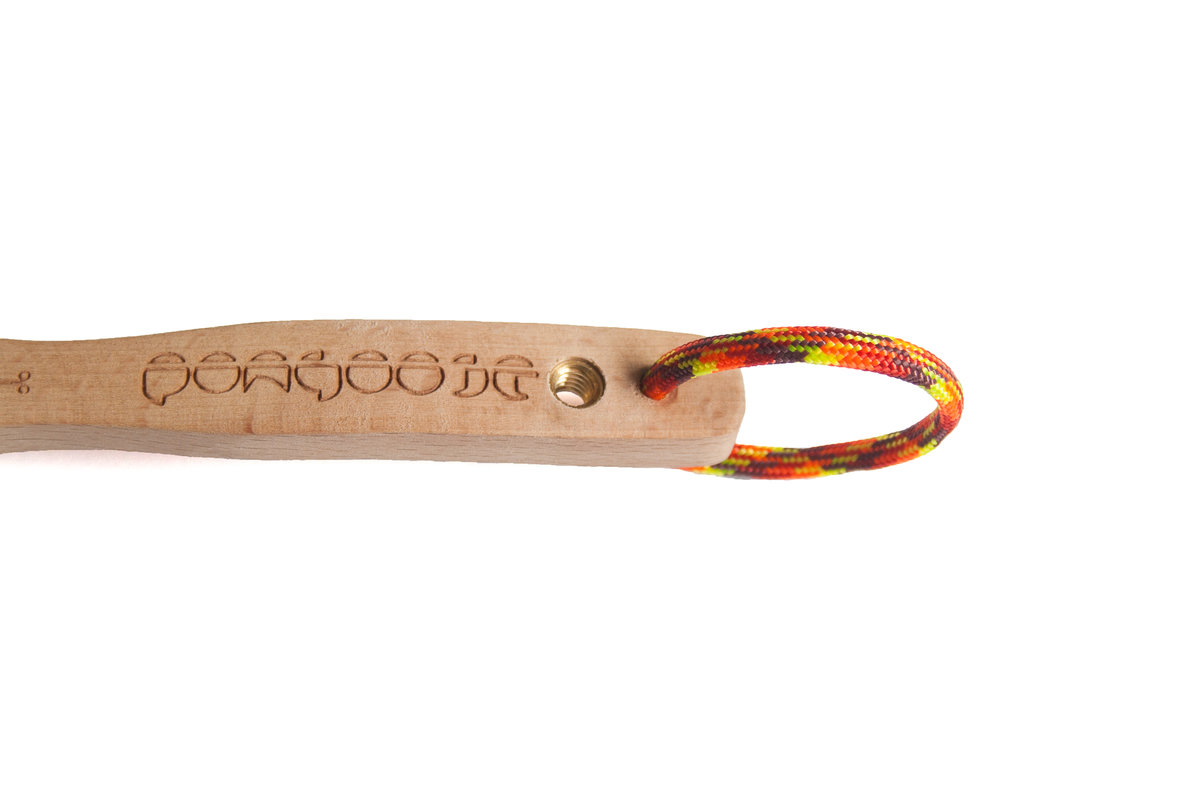 The Camera Boom and Monopod function
Let's face it, as climbers, we love to have those awesome photos or video clips of our achievements on rock, so now you have a telescopic, multi-angled camera boom to hand! You can screw on an action camera or small digital camera to the bracket in place of the clipstick head or brush and capture those funky insta-shots. Don't go too heavy with the camera though to avoid overloading the bracket system, especially when the pole is extended. If you want to use the pole as a monopod or use a larger camera, you can unscrew the entire head unit and fix it directly to the top of the pole. Sorry, Go Pro not included!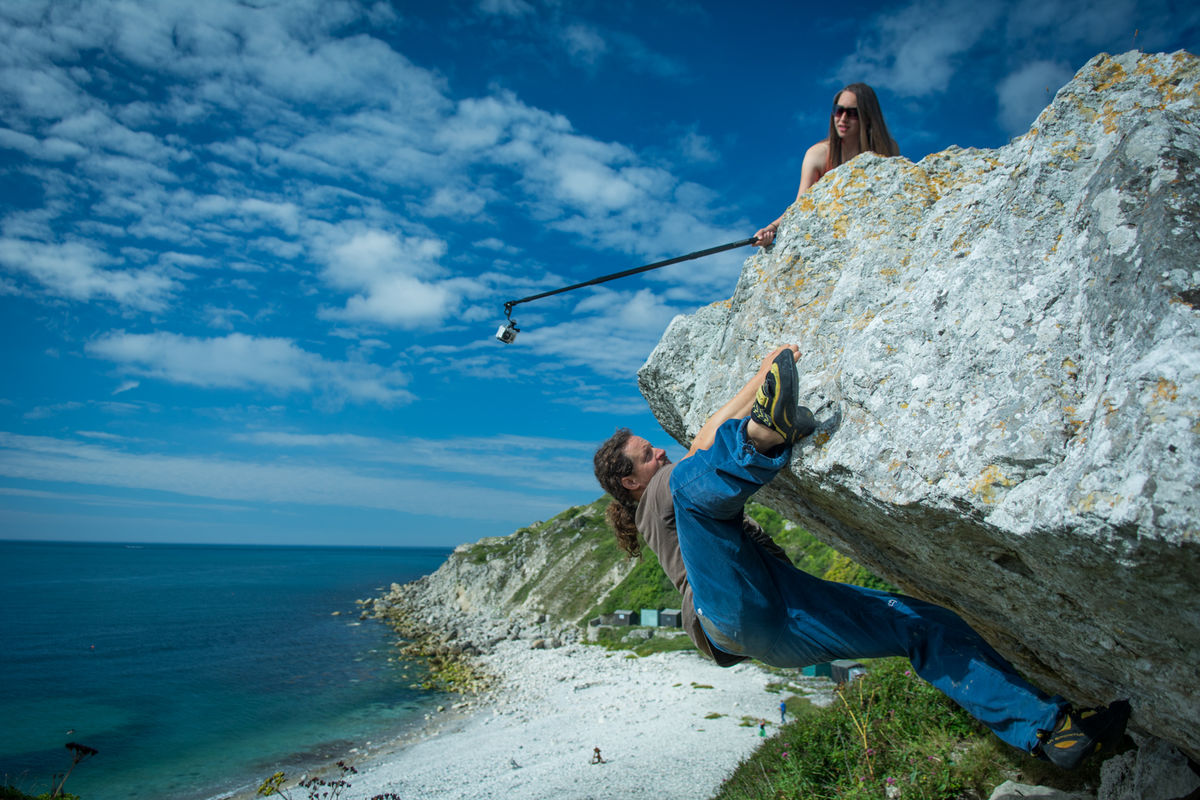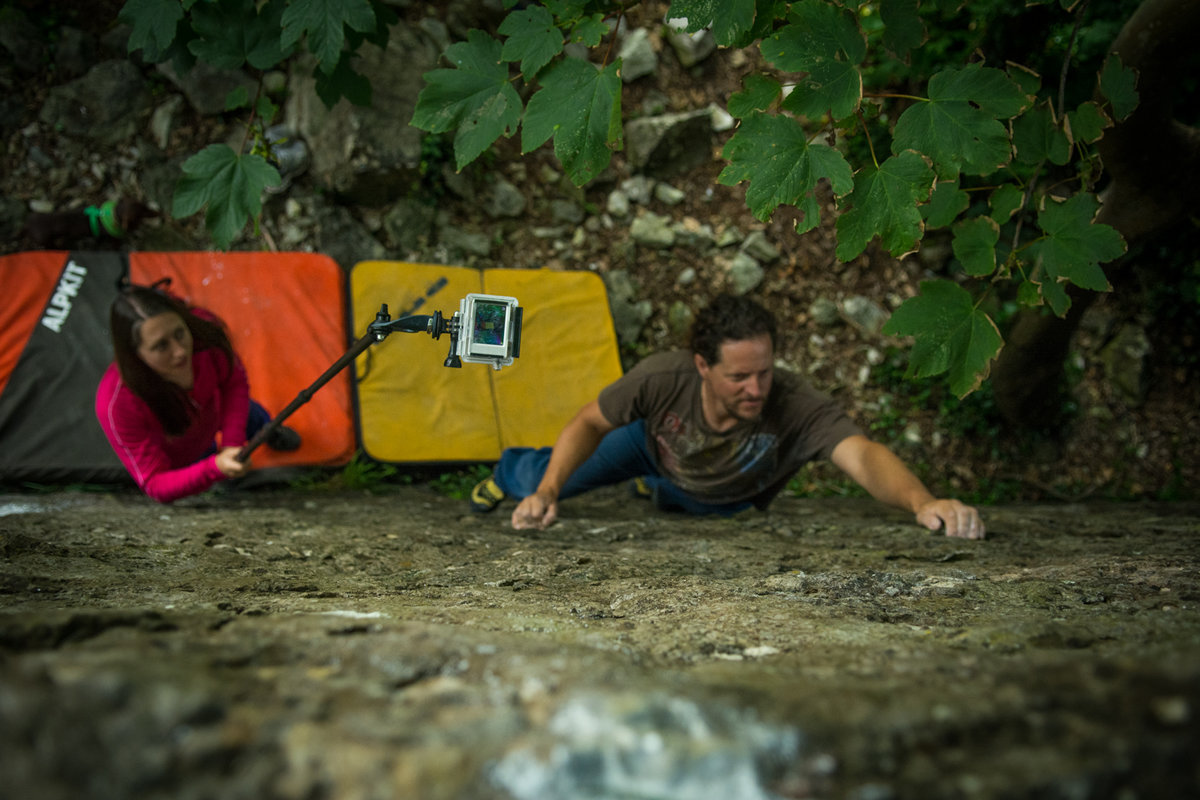 Pole Sizes
The Pongoose Climber 700 currently comes in a compact size which is perfect for travelling. The pole can fit nicely inside a large holdall or backpack and the removable head unit means no more snapped clipsticks courtesy of the airport!
Larger pole sizes will be available in the future, as soon as finances allow, but don't worry as you'll be able to buy the poles separately so you don't need to buy an entire unit again.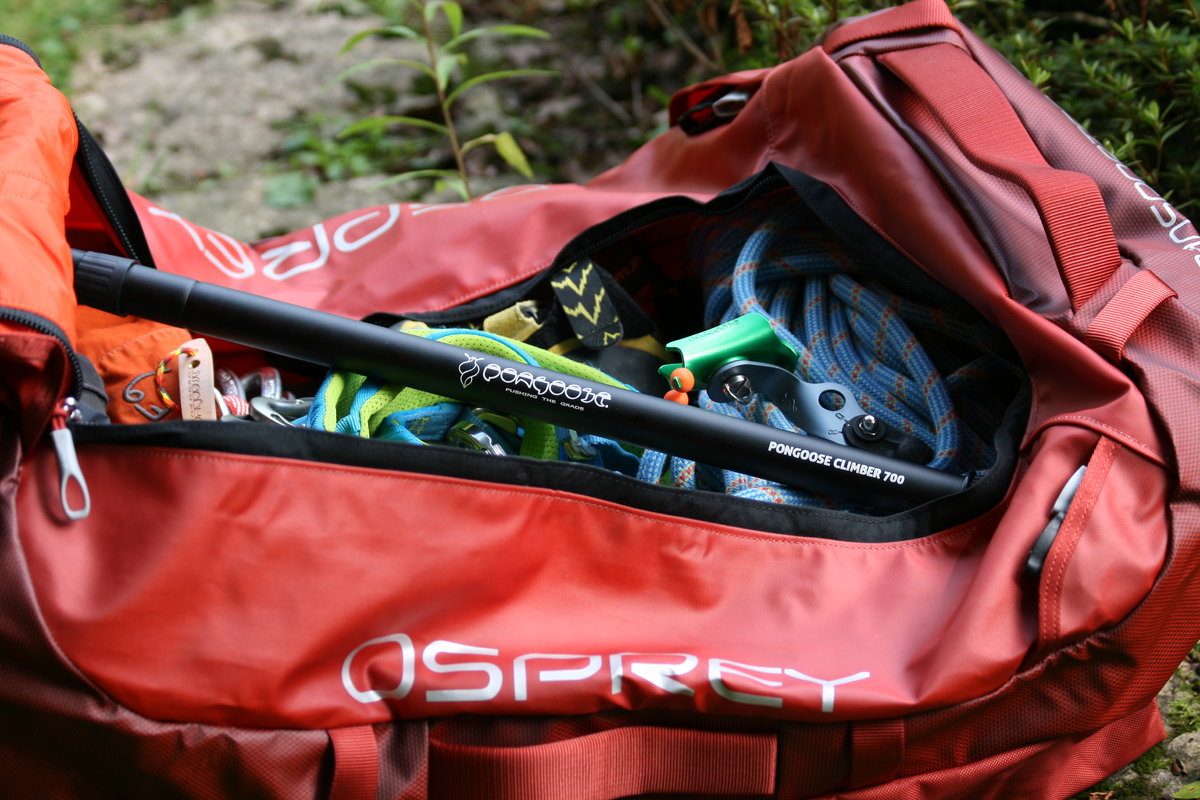 Shown in the new Osprey Transporter 130 bag
Instructional Videos - Click on the videos below to see the Pongoose Climber 700 in action:
To buy your own Pongoose Climber 700 visit www.pongoose.com