Announcing two new photo-location and visitor guidebooks from fotoVUE.
Look Inside both below.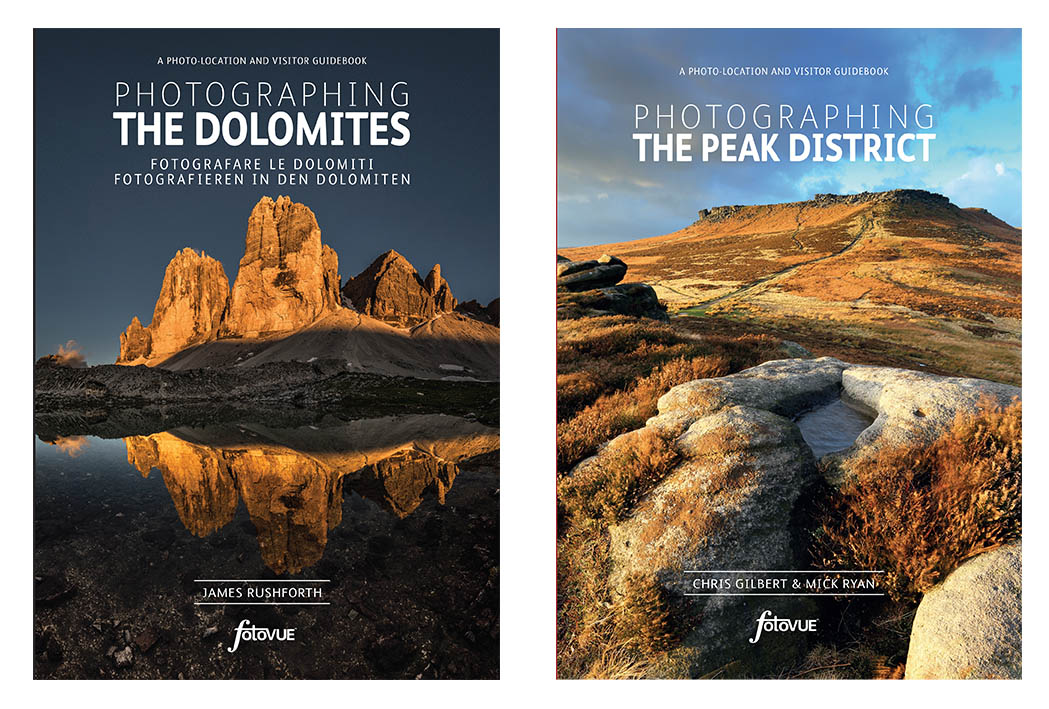 UKC/UKH OFFER
On all our six published guidebooks (not pre-orders). Use the coupon UKC for 20% off the RRP at our shop which includes free shipping to UK addresses.
PHOTOGRAPHING THE PEAK DISTRICT by Chris Gilbert and Mick Ryan
500 locations including all the classics • 800 photographs • 96 pages.
For more information about this guidebook and to buy a copy go to PEAK DISTRICT - use UKC code to get 20% off.
"There are guidebooks and then there are real guidebooks; what Chris Gilbert and Mick Ryan have produced here is a 5 star guidebook that every landscape photographer who is interested in capturing the Peak District at its best, will love. I thoroughly recommend it, you will not be disappointed."

Captain Nikonon at Amazon
LOOK INSIDE PHOTOGRAPHING THE PEAK DISTRICT
"This book is written in such a straightforward non-patronising style that the reader feels truly enabled and more confident about what they are doing with their camera. The photography is amazing and truly one of the most accomplished collections I have seen. I am delighted with this find and am 100% certain it will become a photography classic."

Tracey Boylan at fotovue.com
PHOTOGRAPHING DOLOMITES by James Rushforth
52 locations • 400 photographs • 352 pages.
For more information and to buy a signed pre-order with free UK shipping for £20 (RRP £25)........
Go to DOLOMITES
A stunning companion to his best-selling Dolomites Rockfax guidebook, James Rushforth's latest masterpiece is back from the printers at the end of September and we are taking pre-orders now, each copy signed and shipped free to UK addresses.
LOOK INSIDE PHOTOGRAPHING THE DOLOMITES
If you are dreaming, planning or are going to visit the Dolomites you won't be disappointed with this inspirational photo-location and visitor guidebook that covers 52 locations illustrated with 400 beautiful photographs and all the information to make your trip happen and enjoyable.

Preview all our guidebooks at www.fotovue.com and use the 20% discount code UKC.
In the next few months look out for three new fotoVUE titles:
PHOTOGRAPHING SCOTLAND by Dougie Cunningham,
PHOTOGRAPHING SOUTH WALES by Drew Buckley
PHOTOGRAPHING THE SNOWDONIA MOUNTAINS by Nick Livesey.