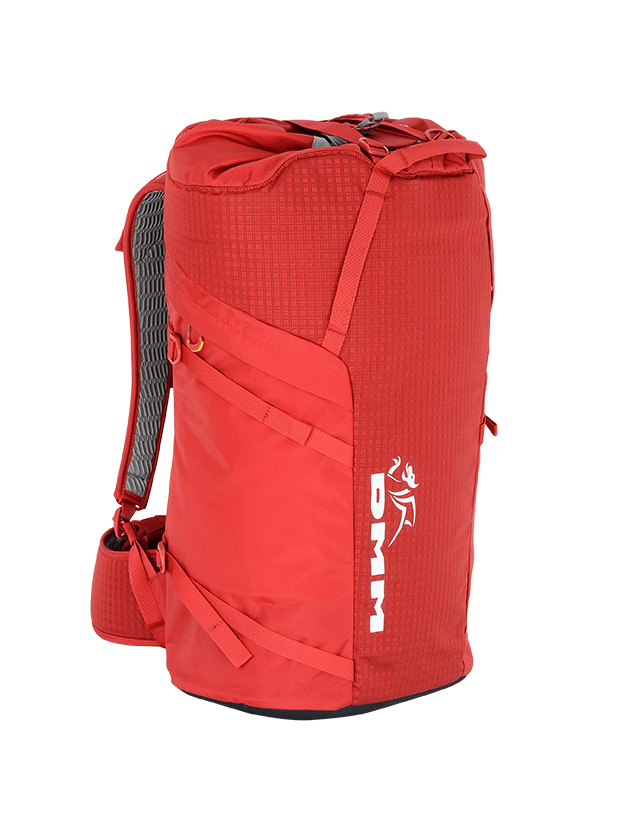 The Vector is an exciting new trad climbing sack which forms a key part of the fresh range of DMM rucksacks and bags. With its clever design features and striking looks it really stands out from the crowd. The neat top opening gives fast access to your kit, while the internal stiffeners allow the sack to keep its shape and be free standing as you pack or unpack your kit for the day. No more fumbling, just quick and easy loading.
We spend our lives packing and unpacking rucksacks, so it would seem sensible to try and improve the speed and ease of this task. The neat top opening on the Vector gives very fast access to your kit – a quick pinch-and-pull and you're in. The inside walls of the sack are lined with a bright yellow material which reflects light in, making it easier to find what you are looking for.
And when it comes time to pack up and move on it's just as quick. The wide, reinforced opening of the bivi extension makes packing easy. The internal arc stiffeners in the walls ensure that the sack keeps its shape and stays free standing and upright. Once your kit is in, the sack is closed and ready to go in seconds. The draw cord tab sits snugly against the base of your hand as you cinch it down; and if rain has stopped play, you can fold the lid to deflect the water away on the way home.
At 45 litres the Vector is the perfect size for trad climbing. You can certainly fit in everything you'd want for a full day out, including a DMM Pitcher Rope bag. And if you need to carry an additional abseil rope then just use the top compression/rope straps. These straps can, of course, be removed if you don't need them.
Keeping your kit well organised is always a good strategy – it saves time at the crag and helps to protect your climbing gear. Every Vector is supplied with an easy-grab Racksack – this neat feature makes storing your rack simple and snag free. It stops your Dragon cams and quickdraws from picking up dirt and grit too. And, should you need it, the front grab handles double as kit racking daisy chains. There is also an internal pocket for valuables and a large guidebook pocket on the external side panel.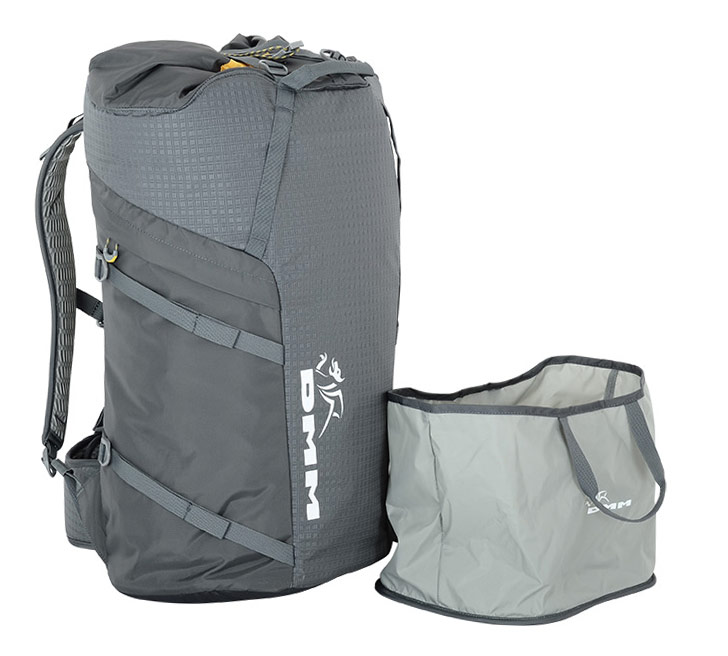 The Vector has a quick-drying Flow Airmesh back system and contoured and supportive shoulder straps, plus padded waist belt – all of which makes for a very comfortable carry. External compression straps provide stability and stop heavy items shifting around in the sack. The Vector also has twin soft grip grab handles which make it easy to lift and move about.
We have used light but hardwearing materials throughout the construction of the sack. And just to make sure, there are reinforced areas around the lid and base of the sack.
The Vector is an excellent trad climbing sack with a range of helpful features. It can be packed and unpacked in super quick time – all of which means less time spent faffing and more time spent climbing!
Features
Neat top opening gives very fast access to your kit
Bright inside fabric reflects light in, making it easier to find kit items
Reinforced opening of the bivi extension makes packing easy
Internal arc stiffeners keep the sack's shape and allow it to be free standing
Perfectly sized at 45 litres to carry all your trad climbing kit
Easy grab Racksack makes gear storage clean and snag free
Flow Airmesh back system, shoulder straps and padded waist belt for comfort
Twin soft grip grab handles for a quick and easy carry
Internal and external pockets for guidebook and valuables
External compression straps for stability and extra comfort
Front grab handles double as kit racking daisy chains
Light but hardwearing materials throughout the construction
Reinforced areas around the lid and base
Weight:

1225g