Designed for big single days or light multi-day use, the Octal 55 from Gregory is a lightweight pack that doesn't compromise on features or carrying comfort. It's a versatile bag thanks in part the host of features on offer and I have used it winter hillwalking, on low level hikes, cross country skiing and even as a main bag for trips abroad sport climbing. I've found it a very comfortable bag even when fully laden, although I have not yet used it on any multiday activities when comfort really is highlighted. The build quality of the Octal is very high and after several months of regular use it's not yet showing any signs of wear.
Capacity and Accessing Gear
The Octal women's pack comes in two overall sizes, 45 and 55 litres. I've been using the 55, which seems a more versatile size for overnight use. This is available in three fixed back lengths (which each have slightly different overall pack capacity, as you might expect): XS (52L), S (55L) and M (58L). For men the equivalent is the Optic (48L or 58L).
I have been using the Small size, which basically equates to Medium (being the middle one) and even though I am a relatively small girl, I found this to be the best size for me. I don't think I would have wanted to go any smaller. I have never found myself lacking space and although I have not yet used it overnight I have used it for winter walking in Scotland and cross country skiing in Canada which required a decent pack size for extra layering. On these occasions I still had plenty of room so I definitely think this bag would be ideal for short multi-day trips (or longer ones if you're an ultralight aficionado).
The drawcord closure system for the main compartment is simple, secure and easy to operate due to the one-handed mechanism. A simple tug on one of the two cords will open or close the compartment and this is also something that can be done while wearing big gloves. Inside the main compartment, there is a hydration sleeve which I have also used for my laptop when flying (the pack is compact enough to use as a carry-on bag).
Besides the main compartment, there are many different pockets on this pack. Two fairly big pockets on the sides are useful for loose items that you want to keep handy. These are quite deep compared to similar on some other packs; however I've found that some of my water bottles do tend to come loose and fall through the opening on the side. Hiking poles can be stored in these pockets and secured using the compression straps with better success.
The oversized stretch mesh pocket on the front of the pack is perfect for my helmet, a wet waterproof shell, or for an extra pair of shoes that that you didn't want going in the main compartment and taking up valuable space. There are two small pockets on the hip belt too, which are easily accessible and great for storing small granola bars or other snacks for a quick bite while out on the hill. I would have liked it if these were slightly longer so I could have had the option to carry my phone here.
A standard over-lid pocket gives you somewhere secure for keys, sunglasses, hat, gloves and the like. You can remove the floating hood if you want to have a more compact and lighter pack, and replace it with a simpler flap that comes stowed in the top pocket, which is just there to keep the weather out of the pack. However I've tended to keep the floating hood attached as I find it useful for storing bits and pieces.
Fit and Carrying Comfort
I can easily get a snug, secure fit with the Octal, all the straps being quickly adjusted and well sculpted for a close fit. The weight of the pack is spread evenly through my hips and shoulders as long as the pack is adjusted and fastened correctly.
There is thick padding on the shoulder and hip straps, made of a dual density foam. This gives you a mesh foam layer on the inside for comfort, overlaid with a harder foam layer that provides more support. A honeycombed makeup provides decent ventilation. I've found that this works to an extent although inevitably I do still end up with sweaty shoulders on occasion when working hard. The foam has shown almost no wear in the time I have used it and has still maintained its firm feel.
On the lower back portion of the Octal is a leaf-sprung lumber pad which is designed to help distribute weight evenly. I have found this helps me maintain good posture when out and about with a heavier pack and the addition of the foam that is used on the shoulders and waist straps keeps it comfortable for long days.
The entire bag maintains its shape using the aluminium perimeter frame running along the sides of the backplate. Like an ultralight tent pole, this is flexible but extremely strong. It's never shown any signs of deforming and keeps the bag in a nice shape that allows for easy loading and unloading of contents.
Mounted on this wrap-around aluminium wire frame, the back support uses Gregory's AeroSpan suspension which keeps your back away from direct contact with the back panel of the bag while supporting you and effectively distributing the weight. This is achieved using a taught mesh that your back sits against, held above the curved back panel. This type of back support often has a tradeoff in terms of eating up valuable storage space, since the back plate is concaved into the pack, however Gregory seem to have struck a very good balance in this department, incorporating only a minimal curve that keeps your back out of contact with the body of the pack while reducing capacity loss to a minimum. Unless you are carrying a very heavy load on a very warm day it's likely you won't suffer from a sticky back. The obvious benefit of this is maximum ventilation; a less tangible but equally important advantage is that it brings the centre of gravity in as close as possible to your body, for a more balanced-feeling load.
Even with heavier gear (although we've not yet had a full trad rack in it), I can almost forget I'm wearing a backpack while on flat ground. With the pack fully laden on steeper ground I do find that after a full day's walking my shoulders hurt slightly.
Weight
The Octal is classed as an ultralight pack. My size Small model weighs in at a very respectable (but not groundbreaking) 1051g including the lid and rain cover. Stripping the pack down by removing the floating zipped hood and rain cover shaves off only about 50g, so while it's still very light I might consider this to be at the heavier end of the real gram counting 'ultralight' scale. By way of comparison, we made the Osprey Levity 45 - quite a similar pack in many respects (albeit slightly smaller) - just 800g in a recent review. That said, lighter packs will often skimp on features, comfort or load supporting structure, something the Octal certainly hasn't done. If you're in the market for a light pack that makes as few compromises as possible, then the Octal is a really good one to consider.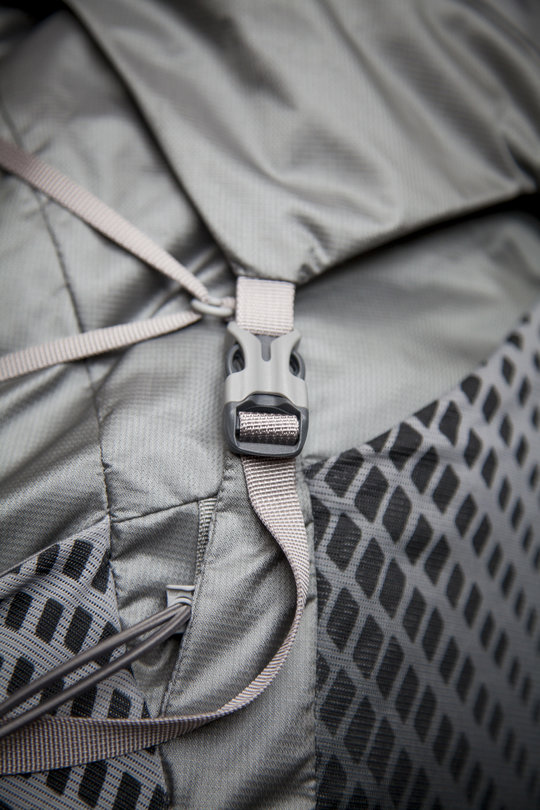 Features
Two elasticated drawcords and fabric loops are provided at the bottom of the pack that can be used for storing walking poles or, if in the hills in winter, ice axes. This is a simple system that is again designed to keep weight to a minimum while offering secure fitting.
Down each side of the Octal are two very effective compression strap systems. I like these, as they draw in the entire length of the pack when compressing, and not just a certain portion of the bag leaving bulges elsewhere (as you sometimes find with compression straps). You can draw in the upper part of the bag, the bottom bit, or both, it's up to you and what you are carrying. These can also be used in combination with the stretch fabric bottle holders to keep items at the side of the bag in place. I think these are a great feature of the rucksack.
A number of more minor features are also on offer: a custom fitted rain cover that is stored in the top pocket; a small sunglasses attachment point on the left shoulder strap; and a number of gear attachment points on the outside of the rucksack.
Summary
For a medium-large capacity rucksack the Octal 55 is not a budget buy, by any means, but it is a well made pack for the money. Striking a good balance between a light weight versus the carrying comfort and number of features on offer, this is a versatile pack that would suit a hillwalking all-rounder. So far I've mainly used it for winter hillwalking, skiing and for low level hikes, though it would be ideal for lightweight overnight backpacking trips too. The ventilated back support and comfortable straps should help keep you from needing a physio!
Octal and Optic packs - Gregory say:
Backpacking packs that don't fall into the compromise of shaving grammes at the cost of comfort, both come in three different fixed back lengths, to ensure a good fit for all sizes. Suspension is via the AeroSpan back, with an ultra-light aluminium perimeter frame and moisture-wicking back panel. There's a proper sprung lumbar pad, too. Features include a removable lid with an ultralight weather flap replacement, quick-access water bottle stowage, a huge front stretch mesh pocket and sunglass quick-stow on the harness.
The Octal 55's intelligent design helps maintain your desired base pack weight while adding attic space and load support for puffy layers, extra calories, or emergency shelter.
Price: £200 (Octal 55) £185 (Octal 45)
Weight: 1051g (size S)
Models: Octal 45 and 55; Optic 48 and 58
Sizes (Octal): XS, S, M
AeroSpan suspension with EVAP moisture wicking shallow-depth ventilated back panel
Ventilated, dual-density FocusForm shoulder harness and extra supportive hip belts with targeted comfort zones
Leaf-Spring Lumbar pad for comfortable, energy-saving load transfer
Ultra-light 7001 aluminum perimeter frame with Anti-barreling support
Included custom fitted rain cover stows in the top pocket for quick access in unexpected showers
Removable top zippered pocket to shed ounces and swap-in included ultra-light weather flap to stay protected (stows in top pocket)
Sunglass QuickStow system on shoulder harness for quick, secure and scratch-free access to your shades without taking the pack off
Quick access on-the-go water bottle stow access on both the right and left sides
Oversized, durable front stretch mesh pocket for quick access organization
Dual zippered hip belt pockets provide secure, easy to access storage
Dual stretch mesh side pockets with Large capacity for bottles, camp sandals, and trekking poles
Dual adjustable attachment loops and upper shock locks for trekking poles or ice axes
Ultra-light V-Compression system on side and bottom of bags
Lower side compression pass-through on side pocket for over/under option
Gear attachment points on top pocket and main body
For more info see gregorypacks.com
UKC Articles and Gear Reviews by Victoria de Ga