Win a Montane Flux Jacket: WINNER
by Montane Dec/2010
This article has been read 6,284 times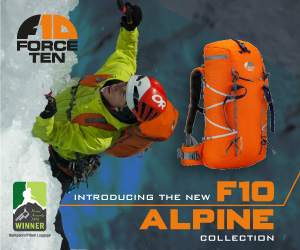 Popular Articles Right Now
Shauna Coxsey is Britain's leading light in competition climbing, with two IFSC Gold medals to her name, placing 2nd overall in... [ full article ]

Ben Davison is one of the rising stars of British sport climbing, having climbed 8c last year he climbed 8c+ just four years... [ full article ]

Here UKC briefly introduces one of the speakers from this year's Kendal Mountain Festival. For those with a knowledge of... [ full article ]

Related UKC Forum discussions
Thank you to everyone who entered.

THE WINNER IS: Michael Blood of Bolton in Lancashire.

1.What is the name of the coldest and toughest Arctic Ultra that Montane sponsor?

ANSWER: Montane Yukon Arctic Ultra

2.How many miles is Montane's Kielder mountain bike race?

ANSWER: 100 miles

3.What weight of Primaloft Eco does Montane use in the Flux arms?

ANSWER: 60g
Flux Jacket
UKC Gear, Oct 2010
© Montane
Montane® was created over 18 years ago. Founded by a young passionate engineer who in between venturing out to explore the remote and wild places of this earth, began sewing garments for friends and fellow mountain enthusiasts. It's a classic beginning really.
Innovation was the start. The first super packable and lightweight windshirt, the first extreme conditions one layering system. The focus was and always will be on pushing the limits of garment design in order that those who are attracted to wild places can raise the limits of endurance and adventure in the mountains.
Those in the past and those who now currently work and belong to Montane® from designer, office support, sales, sponsored athlete and active user help perpetuate that pursuit of innovation. A pursuit that enables all of us in the mountains to move.... Further. Faster.
To mark the launch of our new website, here is your chance to win a Montane Flux Jacket. Retailing at £130 the Flux is designed for moving fast in cold conditions in the mountains. Featuring layered 60g and 40g Primaloft constructed in such way to maximise insulation without compromising comfort. The Flux was concieved to be more than a simple belay jacket. Super packable and encased in Pertex Microlight, windproof and exceptionally fast drying. The Flux has been tested on the bigwalls of Patagonia's Fitzroy in some of the most changeable weather conditions on earth. More details about the Flux at www.montane.co.uk
All you have to do is answer the three questions below.
1.What is the name of the coldest and toughest Arctic Ultra that Montane sponsor?
2.How many miles is Montane's Kielder mountain bike race?
3.What weight of Primaloft Eco does Montane use in the Flux arms?
Email your answers, name and address to ukc_competition@montane.co.uk by 3rd January 2011.
MONTANE AND MOUNTAIN RESCUE - Raising £50,000
The Mountain Rescue service in England & Wales is provided by around 3500 volunteers, available 24 hours a day, 365 days of the year. They rely completely on donations for their funding, even for clothing. Montane® have committed to raising £50,000 for Mountain Rescue through donating over 50% of the retail price of a range of limited edition products.
Click here to find out www.montane.co.uk