| | |
| --- | --- |
| | / Taghia |
This topic has been archived, and won't accept reply postings.
Hello

I'm going to Taghia in Morocco on wednesday. Does anybody have any useful advice for getting there from Marrakech? Any info gratefully received.

Pete
In reply to
petesdavies: Hi Pete,
The whole journey takes about a full day - we did it in an evening then most of the following day.
We just took a grand taxi from the airport to Azilal (a few hours maybe 4?)
Then you need a 4x4 type vehicle to take you over the passes to Zauaira (about 3-4 hours?)(spelling a guess - but it's spelt differently on every map and sign!).
Then you need to carry your stuff or get some donkeys and hike in to Taghia - not too far, a couple of hours, maybe a little more.
We stayed over in Azilal which meant we didn't have to walk up to the village in darkness.
I have maps, topo's etc.
Which routes are you planning on doing? Some of the routes there are amongst the best I've ever climbed.
You can get everything you need food-wise in Taghia, there is a tiny shop which they will open for you if you ask Said.
Good luck.
Thanks for the link Ian, I'll email Twid.
Thanks for the info as well Crippin that's helpful. I'm not sure about routes yet. I don't have much fitness at the moment, so we'll start with something easy and see how it goes. I found lots of topos and maps from this website:
http://www.onaclimb.com/taghia/info_taoujdad.html
and I've got a coffee table book by Piola thats got some routes in it.
Any routes that you'd recommend at around 6c-7b...
In reply to
petesdavies: Email me through the site if you have any questions.
Routes 6c - 7b? Most of the good ones are sort of top end in that range I'd say but Canyon Apache 6c+/7a ish and about 300m is very good. Riviere Pourpre is the one to go for at that sort of grade, lots of 7a/+ and a pitch of 7b+ at the top.
The bolts are good and not too run out, loads of bolts on the hard bits.
I'm jealous!

In reply to
crippin:
Thanks again for the advice. Riviere Poupre sounds like the one to go for once we've got going. I can't wait!
---
This topic has been archived, and won't accept reply postings.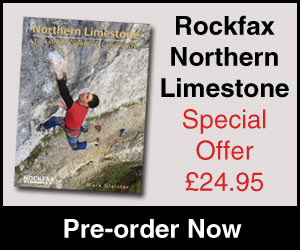 Elsewhere on the site
Perhaps the perfect Xmas gift for the climber in your life... Wild Country's Crack School has two of the worlds best crack... Read more
141219
0
Tonight's Friday Night Video features the Norwegian town of Rjukan, once believed to be the home of the world's tallest... Read more
141219
0
F ounded in 1993, Mountain Hardwear are a pretty young mountaineering clothing and equipment manufacturer but are also one of... Read more
141216
0
At a bar in Llanberis an old man chimed in And I thought he was out of his head Being a young man I just laughed it off When... Read more
141203
0
Rock shoes stink – let's face it. Boot Bananas are the perfect way to fight the funk and keep them fresh. They help... Read more
141219
0