| | |
| --- | --- |
| | / Summit Aconcagua for Charity |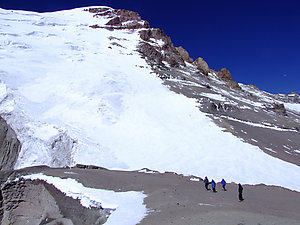 Join our charity expedition to Aconcagua, at nearly 7000m itís the highest point in the Americas and the second highest of the famous Seven Summits. The trip is totally free if you raise the fundraising target, so not only are you getting to experience one of the most exciting adventures of your life, you are also helping to raise money for a fantastic cause.
The individual fundraising target of £4500 will cover flights from the UK to Mendoza, Argentina (via Santiago, Chile or Buenos Aires, Argentina), accommodation in Mendoza prior to climbing the trek, trekking permits for each participant, services of trained English speaking mountain guides, accommodation and meals on the mountain, full first aid advise and use of pressure Chambers (at Base Camp) when required, as well as providing funding for our vital community based development projects in the countries we operate in. The deposit is £400, refundable upon completion of the fundraising. We are experts at fundraising and although the target seems quite high, we will be here to help you every step of the way with as much help and advice as you need.
Our expedition is taking place in Feb 2010 and currently there are still a few places left to fill. The team will consist of 15 people, if you are up for the challenge, it will be the experience of a lifetime.
Childreach International is a UK charity (reg. number 1132203) that works to give underprivileged children a better chance in life in some of the poorest countries in the world. At least half of the money raised from the expedition will go directly to our charity projects, we hope to raise £50,000 in total.
We will be taking the non-technical Normal Route to the summit, although crampons may be needed near the top. The climb will take approximately 21 days. Although non-technical, the mountain is very challenging and the main obstacle is the high altitude and adverse weather - this expedition is only open to people who have some previous high altitude experience, such as Kilimanjaro or higher. Please do your own research to make sure you know exactly what the mountain entails.
http://www.summitpost.org/route/155610/normal-route.html
For more information, please visit
http://www.childreach.org.uk/challenge-events/aconcagua-ascent
and downloard the information pack.
Post any questions on the thread or contact andylowe@childreach.org.uk or call 07793199017 if you are interested in signing up. Places will go fast so get in touch, join our team and be part of something special.
In reply to
Childreach International:
How much of the £4,500 goes to charitable causes?
In reply to
Tom Briggs - Jagged Globe:
At least 50% of all money raised for our challenge events goes directly to our charitable projects. So in this case, atleast £2250.
In reply to
Childreach International: so your asking people to donate to a charity event, but half of peoples donations go to pay for your exped. I would never give to anyone on a charity event like this unless the person going was contributing the cost of the holiday itself
I agree Steve - there should be rules against this. It is why I NEVER sponsor people in these situations, you're just paying for a holiday. Ridiculous.
In reply to
Paul Doran:
> I agree Steve - there should be rules against this. It is why I NEVER sponsor people in these situations, you're just paying for a holiday. Ridiculous.

I think you are very quick to judge something that you havenít taken the time to think about... First of all, participants are legally obligated to inform potential sponsors that some of the money goes towards paying the cost of the trip, and then the sponsor is free to either donate or not if they so choose. This is no different to if you were to sponsor someone to run the London Marathon - £450 from every runner goes to the marathon, so this is a cost which is paid for out of sponsorship. But you might sponsor someone to do a marathon because you perceive it to be challenging enough to be worth it - now letís compare this to Aconcagua: Most people would agree that this sort of challenge is not a walk in the park and is not exactly a holiday to Disneyland, it is a gruelling test of endurance, spending 3 weeks on a mountain in sub-zero temperatures. Also consider that the fundraising takes up hours and hours of dedication, this in itself is a challenge. Then there is the fact that such trips can only be accessible to people of low income (such as students) if they are able to partake through fundraising schemes, the result being that a lot more people are able to take part and so the charity makes a lot more money. Almost a thousand students from across the UK did Childreach challenge events last year and we raised almost £1million pounds to fund vital project work. Many of the participants go on to do hands on volunteering in these projects. Because of the nature of the incentive-based fundraising, this money would not have been raised had the trips not taken place - in other words, if those thousand students weren't getting something out of it, they wouldn't have spent hours raising money for charity and as a result we wouldn't have raised £1 million. So the result of providing an incentive is that more people go out and fundraise and charity wins. This money has saved countless lives in some of the poorest countries in the world. If you are the sort of person who never sponsors someone then thatís just the sort of person you are, everyone is free to choose what they do with their money. But donít criticize something that brings about so much good in the world.
mountainchamp
on 07 Mar 2010 -
cpc2-nott15-2-0-cust89.12-2.cable.virginmedia.com
In reply to
Childreach International: I totally agree. With almost every charity event for which you sponsor people some of the money will be used to cover the costs of the event itself.
I can see your argument though Paul - it is a substantial amount of money that is put towards personal expenditure, but looking more optimistically, Childreach are looking to raise about £50,000 from a challenge like this. Now when you put this in to perspective in terms of what that money can achieve - just £2 can pay for a mother and child in Nepal to receive life-saving vaccinations, and £400 is enough to install a whole water pump in a village in Africa giving clean safe water to hundreds of people!
If challenge events like this didn't exist (or even the marathon which is a prime example) - the majority of people would have no real incentive to get involved with collecting for charity unless they were extremely dedicated... a personality trait that lies few and far between.
I personally am looking forward to hearing about the success of the Aconcagua challenge and shall be signing up myself for such a worthy cause - this is not going to be a holiday, it will be the challenge of a lifetime.
Best of luck to every one else who takes part.
Childreach, while what you say is true and I agree with you, that, all things considered, the eventual outcome is that more money is raised, its a shame people dont do research themselves and give away to charity directly. That would be the ideal system, which is why I typically donate direct instead of through sponsorship. And yes low income people have no choice - but for anyone who is earning I still think they should pay the overhead themselves since as 'hard' as the challenge is, most of them are doing it because they want to. They're not total martyrs else the would be social workers in hull.


---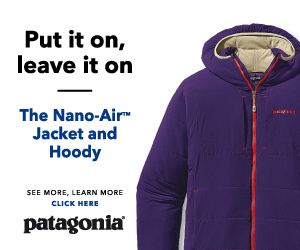 Elsewhere on the site
The release of Peter Jackson's new film The Hobbit: The Battle of the Five Armies on 12th December may not appear to link to... Read more
141212
0
F ounded in 1993, Mountain Hardwear are a pretty young mountaineering clothing and equipment manufacturer but are also one of... Read more
141216
0
Rock shoes stink – let's face it. Boot Bananas are the perfect way to fight the funk and keep them fresh. They help... Read more
141219
0
Tonight's Friday Night Video features the Norwegian town of Rjukan, once believed to be the home of the world's tallest... Read more
141219
0
Perhaps the perfect Xmas gift for the climber in your life... Wild Country's Crack School has two of the worlds best crack... Read more
141219
0
---