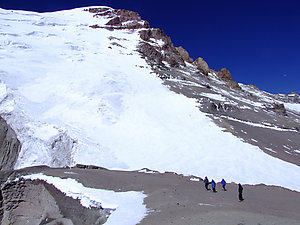 Join our charity expedition to Aconcagua, at nearly 7000m itís the highest point in the Americas and the second highest of the famous Seven Summits. The trip is totally free if you raise the fundraising target, so not only are you getting to experience one of the most exciting adventures of your life, you are also helping to raise money for a fantastic cause.
The individual fundraising target of £4500 will cover flights from the UK to Mendoza, Argentina (via Santiago, Chile or Buenos Aires, Argentina), accommodation in Mendoza prior to climbing the trek, trekking permits for each participant, services of trained English speaking mountain guides, accommodation and meals on the mountain, full first aid advise and use of pressure Chambers (at Base Camp) when required, as well as providing funding for our vital community based development projects in the countries we operate in. The deposit is £400, refundable upon completion of the fundraising. We are experts at fundraising and although the target seems quite high, we will be here to help you every step of the way with as much help and advice as you need.
Our expedition is taking place in Feb 2010 and currently there are still a few places left to fill. The team will consist of 15 people, if you are up for the challenge, it will be the experience of a lifetime.
Childreach International is a UK charity (reg. number 1132203) that works to give underprivileged children a better chance in life in some of the poorest countries in the world. At least half of the money raised from the expedition will go directly to our charity projects, we hope to raise £50,000 in total.
We will be taking the non-technical Normal Route to the summit, although crampons may be needed near the top. The climb will take approximately 21 days. Although non-technical, the mountain is very challenging and the main obstacle is the high altitude and adverse weather - this expedition is only open to people who have some previous high altitude experience, such as Kilimanjaro or higher. Please do your own research to make sure you know exactly what the mountain entails.
http://www.summitpost.org/route/155610/normal-route.html
For more information, please visit
http://www.childreach.org.uk/challenge-events/aconcagua-ascent
and downloard the information pack.
Post any questions on the thread or contact andylowe@childreach.org.uk or call 07793199017 if you are interested in signing up. Places will go fast so get in touch, join our team and be part of something special.