| | |
| --- | --- |
| | / NEW REVIEW: Nature of Snowdonia - a field guide |
This topic has been archived, and won't accept reply postings.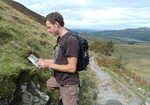 Nature lover Jack Geldard puts Mike Raine's new book 'Nature of Snowdonia' under his magnifying glass, and discovers that this Pesda Press field guide is an essential companion for your Snowdonia adventures.
Read more at http://www.ukclimbing.com/gear/review.php?id=3044
In reply to
UKC Gear:
Thanks for posting this review. I shall have to inform Father Christmas, it sounds like a really worthwhile book. Congratulations to the author.
One very minor gripe from Pedant's Corner, I think you might inadvertently have done the author a disservice when you wrote "Mike's ... prosaic style [is] more 'knowledgeable uncle' than 'abrupt geography teacher'". I imagine that's a typo and that "prose style" was intended.
In reply to
Solaris: Well, I am not suggesting Mike's writing is dull, which is one definition of the word 'prosaic'.
But, as far as I am aware, that is also one of the definitions for the word 'prose' - so the sentence you suggest could also be equally misconstrued.
I had intended to use the word prosaic in the sense of meaning a block of writing in prose form, as opposed to poetic form. Which, as far as I know, is one of its meanings. But I am no expert.
I am ready to stand corrected.
Thanks, and I hope you enjoy the book. I did.
Jack
In reply to
UKC Gear:
On the strength of Jack's review (I read it earlier this week) I bought both
Nature of Snowdonia
and
Rock Trails Lakeland
by Paul Gannon from Pesda this week.
Great books which are already increasing my understanding of two of my favourite mountain areas.
Cheers,
Mick
In reply to
UKC Gear: Much of the information in this book is also transferable to other mounbtain areas. I'm lucky to make the trek south to Snowdonia once or twice a year but the information in this book has informed my knowledge of upland Lochaber too.
al
In reply to
UKC Gear: That sounds great. One for the Christmas list. I remember after living in Scotland for a few years realising I couldn't identify all the birds I saw during a day in the hills, let alone plants, and feeling bad about that - and the RSPB Birds of Scotland book helped lots in that respect. So this sounds like a good read.

In reply to
UKC Gear: recommended this book by phil george on his ml training course.
My personal thoughts are that its a really good book. It is suitable for anyone with an intrest in the nature within snowdonia(and how it was formed), but wants a simple non-scientific book.
Ewan
---
This topic has been archived, and won't accept reply postings.

Elsewhere on the site
Rock shoes stink – let's face it. Boot Bananas are the perfect way to fight the funk and keep them fresh. They help... Read more
141219
0
Tonight's Friday Night Video features the Norwegian town of Rjukan, once believed to be the home of the world's tallest... Read more
141219
0
F ounded in 1993, Mountain Hardwear are a pretty young mountaineering clothing and equipment manufacturer but are also one of... Read more
141216
0
At a bar in Llanberis an old man chimed in And I thought he was out of his head Being a young man I just laughed it off When... Read more
141203
0
Perhaps the perfect Xmas gift for the climber in your life... Wild Country's Crack School has two of the worlds best crack... Read more
141219
0
---