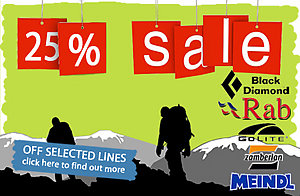 For one week only (Thursday 26th May until Midnight Wednesday 1st June) the Climbers Shop are offering a massive 25% off on selected line, which includes
Our full range of Sleeping bags
All Cookers & stoves
Black Diamond Packs
Rab Clothing
Golite Clothing
Meindl & Zamberlan Footwear
This promotion isn't on last years stock, end of line products, samples or factory seconds, it is for
brand new summer 2011 gear
so you couldn't ask for a better deal. You can get the discount both in the shop and online
http://www.climbers-shop.com
.
Also if you buy in our Ambleside shop, you are now offering a
10% store loyalty card*
that you can use on all future purchases to ensure you get the best prices possible.
This is a Ďget it whilst you caní offer so donít miss out as once itís over, itís over Ö unless we run another one next month! Sign up to our newsletter to find out if we do.
For more info go to
http://www.climbers-shop.com/gear-guides-info.aspx?tag=guide-deal-week
*The Climbers Shop loyalty card allows you 10% off the retail price in store only. Online prices will be reduced to the same 10% off where possible. Not valid for use with any other promotions or offers, unless stated.