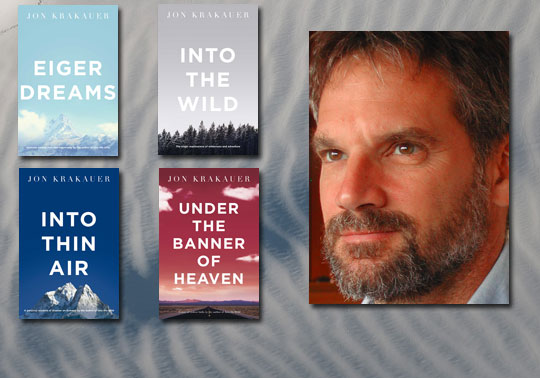 Jon Krakauer: MASTER OF THE WILDERNESS
Jon Krakauer is the foremost writer about man's dangerous obsession with the wild, writing with beauty and precision about people in extreme circumstances. He is the author of five books including the massive bestsellers
Into Thin Air
and
Into the Wild
.</p>
Pan Macmillan are reissuing these classic works with striking new covers – a must-have collectible set for anyone with an interest in 'man vs nature.'
Into Thin Air
Into Thin Air recreates the tragedy that he himself experienced near the summit of Everest, when a storm claimed the lives of eight of the people around him, and the guilt and recriminations that dogged the survivors for years afterwards.
Buy Into Thin Air at:
http://www.amazon.co.uk/Into-Thin-Air-personal-disaster/dp/1447200187/ref=ntt_at_ep_dpt_4
Eiger Dreams
Eiger Dreams gathers together his shorter writings on men and mountains, where he ruminates on the fascination and horror of the pastime that kills so many.
Buy Eiger Dreams at:
http://www.amazon.co.uk/Eiger-Dreams-Ventures-among-mountains/dp/0330370006/ref=ntt_at_ep_dpt_3
Into the Wild
Into the Wild, made into a film by Sean Penn, recreates the final travels of a young man whose thirst for adventure left him starving to death in the Alaskan wilderness.
Buy Into the Wild at:
http://www.amazon.co.uk/Into-Wild-Jon-Krakauer/dp/0330351699/ref=ntt_at_ep_dpt_1
Under the Banner of Heaven
In Under the Banner of Heaven Krakauer investigates an uncompromising fundamentalism at the heart of the Mormon faith, and shows how it led in one tragic instance to murder.
Buy Under The Banner of Heaven at:
http://www.amazon.co.uk/Under-Banner-Heaven-Story-Violent/dp/0330419129/ref=ntt_at_ep_dpt_2