| | |
| --- | --- |
| | / Blue Ice Warthog pack review |
This topic has been archived, and won't accept reply postings.
"For those that do remember the old Karrimore Joe Brown pack or a Chouinard Fish pack, the Warthog is better done than either and in modern materials but very similar for what they were designed for. It is a simple sac. And for those that actually know what it is to be used for (single push alpinism)....
Crampons can go under the lid, with the rope strap holding them in place with the pack body offering some protection from sharp points. There are two traditional ice axe holders on the pack..both with reinforced dbl layering sewn through attachments. Easy enough to securely lash on a tool a little less traditional. A small quick link in place of the mini biners would be even cleaner but I was going with a quick "green" solution. A little imagination here will go far if you are using the newest technical tools. Should be little worry on that one."
Pictures and more detail here:
http://coldthistle.blogspot.com/2011/07/blue-ice-new-warthog-alpine-pack.html
In reply to
Dane1: Great review, Dane, and thanks for bringing my attention to this brilliant new sac. It looks like the perfect minimalist multi-pitch / alpine daysac. I really like the "less is more" approach Blue Ice have taken in terms of aesthetics and features also the net result of this on the weight of their products.
Lakes Climber in Ambleside are one of the few UK Blue Ice stockists, so I popped in there to check the Warthog out for myself this morning. As Dane suggests, it's not easy to pull off products that are this simple really well, but Blue Ice appear to have done it. I bought one there and then, but be warned: I gather there aren't that many in stock out there.
I've loaded it up to check out whether the volume is ok, and it comfortably swallowed: my harness; chalk bag; rock shoes; light shell and fleece; half a rack; a half rope under the lid; a guidebook in the lid pocket; and a helmet under the 'hairnet'. Seems like a little belter.
In reply to
softlad:
Glad to know it wasn't just me! Congrads, i obviously think it is a sweet ride ;)
In reply to
Dane1: Nice review Dane, looks like a sweet pack. Any idea how you'd attach trekking poles, or is that missing the point of it? =o)
In reply to
Mr. K:
If you had compact poles then you could pop them inside the pack?
No way of compressing the pack when empty either. Not sure how much of an issue that would be with a pack of this volume though?
Si
In reply to
Mr. K: re trekking poles - the back length of the Warthog is 45cm, so any trekking pole that breaks down to say 47cm or less could go inside. So you'd be fine with the new breed of 'avalanche probe' style poles such as Leki's Micro Sticks, Black Diamond's Distance range etc.
On a more general point, I guess there's always going to be some features missing for some people, and for them there's manufacturers that specifically cater for this: Osprey Packs springs to mind. Osprey seem to want to ensure that nobody could ever observe that feature "x" is missing, so they tend to come with straps, pockets and attachments galore. Don't get me wrong, they make some great products, and I'm the happy owner of quite a few of Osprey's sacs, it's just a very different approach that's all.
In reply to
Mr. K:
Naw, it is a 80 Euro pack, or something like 2 quid and a beer for you guys. Not every whistle (ok one) and bell sewn on. And 27 liters so it is on the small side as well. I use the bigger BD poles and the basket ends hang out the top and can be annoying if not placed right.
It is a pretty specialized pack. No way to easily hang skis or compress it. But my custom packs are set up the same way, with even less actually. And there was every option available for those.
Like Guinness, simple is an aquired taste :)
---
This topic has been archived, and won't accept reply postings.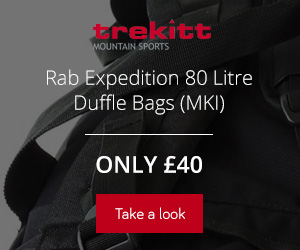 Elsewhere on the site
F ounded in 1993, Mountain Hardwear are a pretty young mountaineering clothing and equipment manufacturer but are also one of... Read more
141216
0
On Saturday 13th December Greg Boswell and Guy Robertson kicked off their Scottish winter season early by making the... Read more
141218
0
Rock shoes stink – let's face it. Boot Bananas are the perfect way to fight the funk and keep them fresh. They help... Read more
141219
0
Perhaps the perfect Xmas gift for the climber in your life... Wild Country's Crack School has two of the worlds best crack... Read more
141219
0
The release of Peter Jackson's new film The Hobbit: The Battle of the Five Armies on 12th December may not appear to link to... Read more
141212
0
---