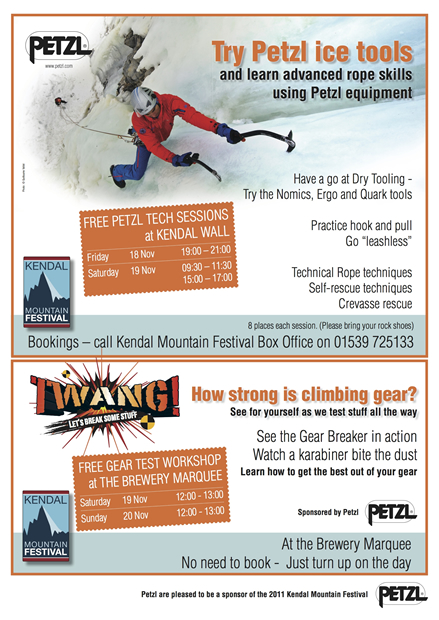 It's that time of year again. The annual Kendal Mountain Festival takes place 17-20th and Lyon/Petzl are proud to be involved in several events throughout the weekend.
In association with Petzl we're offering a wide range of free workshops based around the Brewery Marquee and Kendal Wall. These are an ideal complement to the lectures available (remember to get your tickets early for our sponsored climbers Andy Kirkpatrick, Kenton Cool and Andy Turner).
Try Petzl Ice Tools
For starters sponsors Petzl are giving Festival-goers the chance to try their latest ice tools in special dry-tooling sessions at Kendal Climbing Wall.
Try the Quark, Nomic and Ergo technical leashless tools and find out the difference in performance on vertical or overhanging ground. (Rumours have it that Andy Turner may be on hand to answer your queries and demonstrate some fancy techniques!)
Over the two-hour sessions you will also get the chance to learn rope techniques: self-rescue, crevasse rescue etc using Petzl equipment.
Spaces limited to 8 per session, get in early and call the Festival box office on 01539 725133
Session day/times as follows:
Friday 18 November 19:00 – 21:00
Saturday 19 November 09:30 – 11:30
Saturday 19 November 15:00 – 17:00
The Gear Breaker
We will also be running demo sessions testing hardware & slings to destruction on our portable gear breaker on the Petzl stand at the Base Camp Marquee near the Brewery Arts Centre. This will demonstrate karabiners tested to destruction, sling strength and the effect of abrasions.
There's no need to book for these – just turn up on the day.
Gear test day/times as follows:
Saturday 19 November 12:00 – 13:00
Sunday 20 November 12:00 – 13:00
If you have any queries related to the events please contact us via our website.
http://www.lyon-outdoor.co.uk