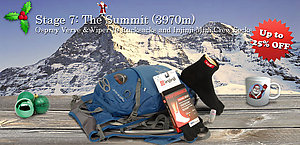 The Climbers Shop Eiger Christmas Promo
http://www.climbers-shop.com/christmas-promo
- Stage Seven
Summit day!
Today is the last day of our epic Eiger promotion and we make the last push onto the summit, via the Mitellegi ridge.
So what do we have on offer on the final day of our journey then?
Well today's offer has a fast and light sort of feel to it. We have two cracking little hydration packs from Osprey – The Osprey Viper 10 (mens) and the Verve 10 (women's). These great little packs are just the job if you're trail running, fastpacking or mountain biking; keeping you hydrated on the move and sticking to your back like a limpet.
We're also offering a great deal on possibly our most popular products over the last six months – the Injinji Toesocks. These clever little 'foot gloves' have gained a huge following, particularly among trail and ultra distance runners, as their '5 toe' design effectively prevents blisters and massively improves comfort on long mileage runs.
This offer is for the Injinji Mini Crew toesock and it is now at the great price of just £11 a pair (normally £13).
All of the offers from the Eiger Christmas promotion will be held until December the 27th.
Our last posting day for guaranteed Christmas delivery is the Tuesday 20th December.
Hope you all have wonderful Christmas and an amazing New Year. Best wishes from all of the team at the Climbers Shop.