Premier Post - For Sale: Lime Green Mtn Hardwear Argon Jacket, M
by - sleeplessjb
on - 18 Apr 2012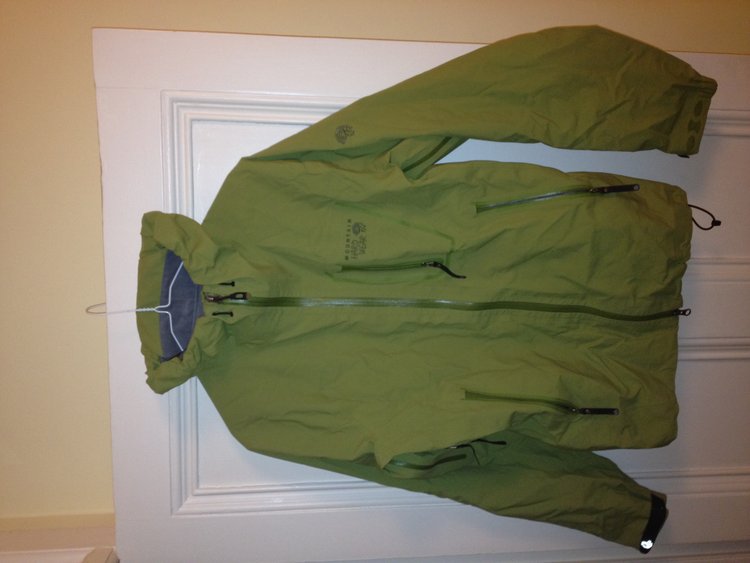 For sale is a twice worn Mountain Hardwear Jacket. It's Lime Green, Size Medium. Retail is £330, cheapest online is £250 so how about £180 posted??

It's been put on once in the alps, otherwise I have just lugged it round in a drybag in case of storms. Any questions 07940384284.

Here's what Ellis B says:
http://www.ellis-brigham.com/cgi-bin/psAffiliateSet.cgi/293751|froogle
Designed to perform in the fickle environs of lofty mountain peaks, this awe inspiring shell combines innovative construction techniques with premium fabrics to give a jacket that wonít let you down when it matters most. The fusion of FTX ProShell face fabric with GORE-TEX Pro Shell provides exception durability and waterproof/breathable performance, while the trim climbing fit and articulated sleeves reduces bulk and gives superb mobility. Features include Superlight Pit Zips, attached roll-away hood, watertight front zip and chest high hand pockets.

Designed for the serious mountaineer, this GORE-TEX Pro Shell delivers exceptional strength and durability with full range of motion in a trim, climber fit. Welded components, micro-tape construction and a helmet-ready hood meet the elements head on.

- Articulated sleeves for mobility
- Chest -high pockets accommodate a harness or pack
- Helmet-compatible hood with single-pull adjustment system and extra beefy brim
- Interior water bottle pocket
- Interior zip pocket for keys, ID, other small items
- Micro-chamois lined chin guard eliminates zipper chafe
- Micro-taped seams reduce weight
- Superlight, extra-long pit zips for ventilation
- Trim, climbing fit
- Welded watertight pockets and zips seal out moisture

Weight - 1 lbs, 4 oz / 536.00 g
Center Back Length - 29.5 " / 75 cm
Body - FTX ProShell
100% Nylon full dull plain weave construction, High filament count 2 ply textured nylon face fabric for a strong lightweight and extremely durable fabric. GORE-TEX ProShell laminate, 100% nylon MicroGrid woven backer and DWR finish. 4.4oz/yd2.
Laminate - GORE-TEX Pro Shell
GORE-TEX Pro Shell with Micro-Grid Backer. This proven and highly durable 3-layer construction is the optimum solution for outdoor professionals and serious enthusiasts routinely battling tough conditions.

by - sleeplessjb
on - 20 Apr 2012
In reply to sleeplessjb: £140 and postage?? any takers? other wise it'll have to go in the cupboard til i trash my old jacket...
by - scobarl
on - 20 Apr 2012
In reply to sleeplessjb:
I know it's a fair bit below your asking but I have £100 if that's any good.
Thanks
by - sleeplessjb
on - 20 Apr 2012
In reply to scobarl: sorry there's just no way I can go that low...
by - scobarl
on - 20 Apr 2012
In reply to sleeplessjb:

No probs. Thanks
by - sleeplessjb
on - 22 Apr 2012
In reply to sleeplessjb: £120 + £2.50 for posting...?
by - sleeplessjb
on - 25 Apr 2012
In reply to scobarl: it's ures for 100 + p&P if ya want it... open to anyone... obviously gonna send recorder so a fiver?
by - scobarl
on - 25 Apr 2012
In reply to sleeplessjb: Sent you an email. £105 is fine with me.
Thanks