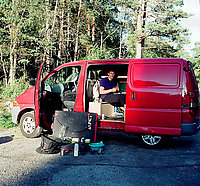 Hi there,
Reluctantly selling my lovely Toyota Hiace. Beatrice is a reliable honest van and has never let us down. We are sad to sell her but I'm having a baby and just can't afford to keep her.
She has quite a few miles on her clock - Hundred and forty one thousand, but that's nothing for this this type of Hiace ( the under dog of the van world)
MOT till May and tax until end of October.
Bench seat
Pull of bed
Insulated and ply lined.
Lovely little cooking alcove with Aluminium base. Cupboards and under bed storage.
Been to France and all over UK with her.
Can be economical if you don't go over 60mph!
A few bad things, there is a rusty whole on slide door which needs filling and the odd scrape here and there from inconsiderate bad drivers.
Based in Glasgow.
I have more pics of interior if you want to take a peek. many thanks