| | |
| --- | --- |
| | / Winter boots / crampon advice |
This topic has been archived, and won't accept reply postings.
Apologies in advance for another thread about winter boots, didn't want to hijack any of the others!

Anyway, looking for a bit of advice regarding boots for Scottish winter (around grades I-IV, maybe seconding harder in time..) and hopefully for the Alps next year (mainly classical alpine stuff, nothing really technical). I already have Scarpa SL's which i'm happy to use for all summer stuff and winter walking in Scotland but im unsure about what combination to go for in a dedicated winter boot. Im pretty tight on money, so i'm also hoping for these to last a good few years and put up with alot of abuse

I was either thinking of going with a B3 boot (Nepal Evos or similar) combined with a light approach shoe. Pro's = Really durable boot, more than able to cope with technical Scottish stuff and warm enough for classical alpine stuff like MB. Con's = Heavy boots, not particularly comfortable for alpine routes that involve mostly walking but the approach shoe would make them ideal for Scotland.

The other option is to go for a B2 boot (Scarpa Charmoz or LS Trango alps) and just not bother with approach shoes. Pro's = Generally cheaper, more comfortable to walk in and should be able to handle lower-end scottish winter. Con's = Not as durable as something like Nepal Evo's and possibly not as great if I start doing more technical winter stuff during the boots life span.

In terms of crampons I guess the best bet would be something like G12's or equivalent but was wondering if maybe something like the Petzl Sarkens might prove a little more useful on the technical side and still be okay to walk in?

In reality I know it comes down to what fits my feet best and what crampon fits my boot best, which should hopefully narrow down my choice but was hoping on gathering alot of advice before splashing alot of cash!

Many thanks for any replies

In reply to
CMcBain: its quite rare to see people walking in wearing approach shoes in Scotland just more weight in yr bag imo. Scarpa b3 actually have a fair amount of flex and are quite comfy for walking in, I didn't particularly like Nepal's (harsh on balls of feet, not as comfy for walking, weak mid sole easily damaged). id probably start with a mountaineering crampon and aim to couple with a dedicated mono point later (keeping the moutaineering crampons for softer snow and less technical days).
Personally I think if you aim to climb grade iv and possibly harder id avoid b2 boots but they will still work. your mono point crampon selection will be limited later as well as being less supportive for steeper routes.
In reply to
CMcBain: I agree with the above. Modern B3 boots can be very comfortable if you make sure you get one which fits you properly. I'd definitely recommend you go for a B3 if you're thinking you'll be climbing grade IV in the near future.
No point recommending a model, just make sure you try on at least four different boots from 2 or 3 different brands.
Some brands to look at:
Scarpa
La Sportiva
Garmont
Aku
Millet
In reply to
Gob_Stopper:
Many thanks for the advice, so far seeming like B3's are a slightly better option. In terms of B3 boots is there a trade-off between durability and walking comfort? It seems like boots like the Scarpa phantom guide (tried them on and the fit felt superb) and the L.S Trango Extreme Evo light (and similar models) are alot more comfortable to walk in but theres a bit of a sacrifice in durability. The Nepal Evo's and Scarpa Mont Blancs seem to have bombproof durability but not the same level of comfort as guides/evo lights.
Not sure if i'd rather put up with slightly sore feet on long days or buying very expensive boots more often than I need to ...
Thanks again
In reply to
CMcBain: Don't think there is a traidoff between comfort and durability. There is a tradeooff between weight and durability. I'd have thought that most boots by the brands mentioned will pretty durable and last you as long as you can reasonably expect. They way you move, and how you care for them, will probably be a more critical factor.
Obviously you need to be looking for a good rubber rand, and durable materials used in construction. For example some of the Aku B3 boots are all leather in construction...these will probably be more durable (and waterproof) than part synthetic models.
In reply to
CMcBain: I had a complete nightmare with winter boots but i am cursed with narrow heels. I am now sorted just with a pair of scarpa nepal evos. I agree that the ideal boot for a scottish winter even in the lower grades is a B3 that you can both climb and walk in. Fit is everything. Watch out for heel lift. That can ruin you day in a very short space of time.

In reply to
CMcBain: Don't forget that a pair of Trango S are not going to be particularly warm.
If money is an issue get a pair of second hand boots, they will still last you for years provided they are in decent nick when you get them.
As for crampons, G12s will do you for most things but a pair of G14 will be slightly more versatile albeit heavier. They are basically a pair of G12s but with horizontal replaceable front points. In an ideal world you'd have a pair of G12 or airtechs and a pair of G20s or darts to complement them.
I spent last summer walking many miles in a pair of Scarpa omega plastics together with G14s without it becoming particularly uncomfortable. Just make sure they fit your feet.
---
This topic has been archived, and won't accept reply postings.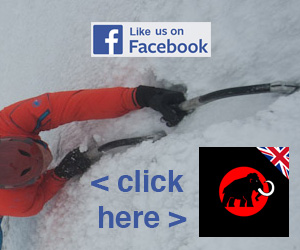 Elsewhere on the site
The Epicentre Mega Winter Sale starts in store 9am Christmas Eve. We have a great selection of in store only deals from... Read more
141218
0
F ounded in 1993, Mountain Hardwear are a pretty young mountaineering clothing and equipment manufacturer but are also one of... Read more
141216
0
This years ROCfest will be slightly different. We've decided to run a Climbing Festival, not just a competition! Over... Read more
141216
0
With four photos in this week's top ten, and a UKC gallery of stunning images we thought it was time we had a chat with... Read more
141203
0
On Saturday 13th December Greg Boswell and Guy Robertson kicked off their Scottish winter season early by making the... Read more
141218
0
---