View latest messages in My Forums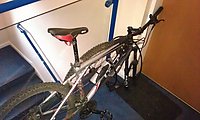 Price: £180
Hi,
I am moving to Oz, and it costs more than the bike is worth to ship it over, so time to sell this on.
GT Aggressor XC3, bought in 2010, nice bike and has been looked after reasonably well. Normal scrapes and scratches as expected on a mountain bike.
18" Frame (suits me at 6')
Hydraulic Disk brakes
Collect from Leeds - Price is £180 - open to reasonable offers
Photo's are here....
(I will endeavour to get the bike out on the weekend and take some proper photo's)
https://picasaweb.google.com/lh/photo/Xw-K91rVXhyW40P-c7EHUtMTjNZETYmyPJy0liipFm0?feat=directlink
https://picasaweb.google.com/lh/photo/jdBm_0UClXchvb5Go3egG9MTjNZETYmyPJy0liipFm0?feat=directlink
---
My Forums