View latest messages in My Forums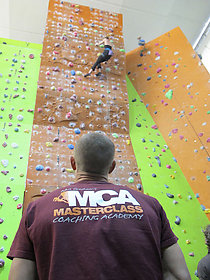 MCA is an independent coaching qualification scheme that is run by one of Britain's leading coaching pioneers, Neil Gresham. The scheme consists of four 2-day courses and a 2-day assessment, which are held at Westway climbing centre in London. MCA is aimed at aspirant coaches or any competent climber who wishes to improve their own performance. The main focus is on coaching intermediates and elites and there is a minimum standard of French 6b to attend courses and F7a (onsight) to pass the assessment. The courses can be attended individually as CPD modules and places are still available on the next series.
www.masterclasscoachingacademy.com
5th & 6th Nov 2012 - Module 1. Technique
3th & 4th Dec 2012 - Module 2. Training
7th & 8th Jan 2013 - Module 3. Competitions, redpointing & mental performance
4th & 5th Feb 2013 - Module 4. Coaching methods, supporting theory & injury management
Each 2 day module costs £325
In Praise of MCA
Your coaching course is definitely one-of-a-kind and at the forefront of climbing coaching in the UK. I thoroughly enjoyed it and learned a great deal.
DC (Sports training coach, London) 2012
The amount of content and detail far exceeded my expectations. Someone said to me beforehand, "What can an experienced climber like me learn from MCA?" Well I can certainly say a great deal and would recommend any climber who wants to achieve a better understanding of training & coaching to give it a go.
AG (F7c climber, Staffordshire) 2012

It's an incredibly well thought-out and comprehensive course, perfect for old hands and young talent alike. As the person out-front, Neil is an inspiring role model for MCA, both as a coach and a climber. It's obvious that your methods have all been gained through hard work and trial and error as well as theory.
LP (Mountain Guide, Llanberis) 2012
Check the article here
---
My Forums