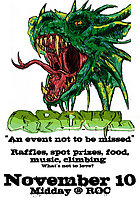 GROWL - Great Rock Over Winter League 2012
Set over three awesome full-day events, the
GROWL
is a bouldering league like no other! Imagine a National climbing competition, add great food, fantastic music, raffles and spot prizes, then add a Beginners competition right over the top!
The
GROWL
is the only place where Beginners can really get a taste of competing, alongside Local Heroes, and even win some great prizes (it's not called the Great Rock Over Winter League for nothing!)
With 10 (that's right – 10!) categories – Male & Female – Open, Beginner, Veteran, Junior 11-15, Junior 7-10.
Tons of prizes (we mean a LOT!) – THREE raffle problems, FOUR scorecard raffles, Spot prizes
You could win (without even winning) a fingerboard, chalk bag, t-shirt, hoody, brush, 12 climb pass and more!
Overall prizes range from an Annual Pass to12 climb passes.
Three events to truly not miss, so put these dates in your diary:
November 10th
December 1st
January 19th
For full details goto
http://www.rockoverclimbing.co.uk/update-growl-201213/
And at the end of the league? Well, we're hosting the ROCfest a little earlier next year on February 2nd. A dazzling spectacle of National and International athletes battling it out for some serious cash is certain! It's like we took the GROWL, and made it bigger, better, slicker, but still for everyone! Check it out here ROCfest 2012
http://www.rockoverclimbing.co.uk/the-rocfest-is-back-2-2-13/
For more information please contact us by email info@rockoverclimbing.com or call on 01612881218