| | |
| --- | --- |
| | / Recommend me a Peak District crag for tomorrow. |
This topic has been archived, and won't accept reply postings.
I'm supposed to be climbing in the Peak District tomorrow and having never climbed there before, thought I'd ask the UKC collective for advice on good destinations.

~ Ideally quick drying and gets (relatively) good weather. I've heard that the Eastern side is more often dry due to rain shadow effect.
~ A largish crag which will give big choice of routes.
~ Plenty of stuff in the lower grades (S to VS).
~ Interested to hear about Limestone or Gritstone crags, although Grit preferred as I've climbed a lot of Wye Valley Limestone already this year.
~ Coming up from Gloucestershire and then picking up partner in Birmingham, so nothing too far north unless you think it's really worth the extra mileage.
~ Links to crag logbook entries if possible.

Cheers in advance,

Mike
In reply to
MikeLell:
Go to Stanage or Froggat. Or perhaps the Roaches. Check the weather forecast first.
Pick routes with two or three stars.
If it's rainy or cold, go somewhere lower or more sheltered.
Easy!
In reply to
MikeLell:
have a late start (rain forecast up to 11am)
if its mild & not too windy (as forecast suggests)you should have a great day atany of the below
Stanage, Burbage N, Birchens, Froggatt, Bamford
In reply to
MikeLell: Cheers for the suggestions so far. Please keep them coming. I'm off to buy a guidebook this afternoon.
In reply to
MikeLell: Every local I've ever spoken to says Birchen dries first after rain, and it's usually more sheltered from the wind than most too. If it's dry and not too windy though I'd suggest the climbing at Stanage, Burbage and Froggat is better. Millstone is really good to, quarried grit and therefore much less weathered (for which read rounded) and much taller, but there's not a great deal in the lower grades.

In reply to
ripper: I'm leaning towards Birchen Edge at the moment due the quick dryingness and Froggat doesn't look too much further up the valley if weather turns out to be better.
---
This topic has been archived, and won't accept reply postings.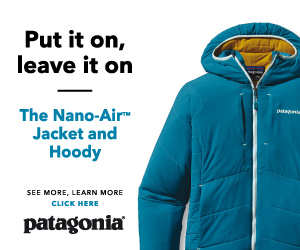 Elsewhere on the site
The release of Peter Jackson's new film The Hobbit: The Battle of the Five Armies on 12th December may not appear to link to... Read more
141212
0
F ounded in 1993, Mountain Hardwear are a pretty young mountaineering clothing and equipment manufacturer but are also one of... Read more
141216
0
Perhaps the perfect Xmas gift for the climber in your life... Wild Country's Crack School has two of the worlds best crack... Read more
141219
0
Rock shoes stink – let's face it. Boot Bananas are the perfect way to fight the funk and keep them fresh. They help... Read more
141219
0
Tonight's Friday Night Video features the Norwegian town of Rjukan, once believed to be the home of the world's tallest... Read more
141219
0
---