| | |
| --- | --- |
| | / Buffalo sleeping bag? |
This topic has been archived, and won't accept reply postings.
I've never actually heard of anyone that uses them. So, anyone on this forum ever use(d) one of these?

I was looking at one the other day and wondered how they'd perform when snow-holing, winter biviing etc. The 4 season version has 2 parts, an inner and an outer.

I've signed up for my winter ML assesment in the new year and thought it may be more practical than my down sleeping bag (you know, sharp pointy things/crampons, confined spaces, down sleeping bag - ok you get the idea!). Also, there's been a few on fleabay recently and they seem to go for about £50.00

I guess the advantages could be:
- Robust, unlike down, they can put up with lots abuse with any rips, holes etc. being easily repaired with gaffer tape.
- I could possibly just use the outer and sleep wearing all/most of my (Paramo) clothing, even if it's damp (within reason). This could also mean much less faff getting into and out of the sleeping bag (getting undressed, dressed etc.)

I guess the disadvantages could be:
- Bulky, though this would probably prevent me from overloading my rucksack!
- Would it be warm enough if using outer only and wearing clothes (as suggested above)?
- Heavier than a down bag (certainly).

I know there are debates on here from time to time about the merits of Buffalo clothing, so it seems they're a bit like marmite; you either love it, or hate it!

Or I could just stick with my down bag + gortex bivvi bag...
In reply to
Woodman: I've had two Buffalo bags over the years: a superbag, and a lightweight outer.
The lightweight outer packed down pretty small, weighed about 2 pounds and I used it mainly for cycle touring in high summer in europe. It was ideal for dossing in bus shelters and in the pyrenees I slept in it in all my clothes as it wasn't very warm. Tough as nails though.
The 'superbag' was a beast, with stiff, heavyweight pile lining, a pertex 6 shell with zipped arm holes for brewing up from your pit, and a pertex liner tied in too. Weight? probably 5 pounds. Used it mostly for car camping and the odd bothy trip in the autumn.
As you say, with these bags you have no qualms about sleeping in cow sheds (froggatt barn, anyone?) but I have to say for my winter ML I wouldn't bother with them - weight is the enemy when you're schlepping across winter munros counting your paces and praying that the gods of micro-nav are smiling on you.
In reply to
Woodman:
Very keen admirer of Pertex/Pile for winter.
Have got the fantastic Mountain 6 shirt with a Montane Hood and also use an old Mardale Jacket. (It is all personal but for me it is much better than Paramo at keeping me warm and comfortable - you did mention Marmite)
I also have the Buffalo 2 season outer sleeping bag as they don't wear out!
Not a fan. It does have the advantages you list above but they are just not warm enough and weigh 1500gms. Tried mine in Corrour Bothy with Buffalo underneath - very little sleep due to being so cold. I think Buffalo rated it at 2 season but they must have tested it in Hawaii.
I only use it for car camping as a liner with 2 season anjugilak over the top.
Out of choice I would go for a good synthetic bag but would avoid the Buffalo. Sorry.
In reply to
Woodman: having examined but not used one of these bags I'd say they're monsters and wouldn't want to backpack with one (am a big fan of the clothing though). I'm about to but one of these myself:
http://www.phdesigns.co.uk/product_info.php?products_id=261
You use it with your lightweight down inside and can use and abuse it like you would a buffalo or bivvi bag. Haven't used one yet but have heard impressive first hand accounts. Maybe worth considering
In reply to
janiejonesworld:
> and wouldn't want to backpack with one

The 4s outer on its own isn't that heavy. Of course it's not a down bag, but it's not too bad. With the inner it is a bulky package, but maybe not so much more than a cheaper synthetic of comparable warmth.
I just sold my Buffalo bags. They had done me huge amounts of service, including going literally round the world with me as a "yoof". They're incredibly tough and last forever. The guy who bought them from me is giving them to his brother, who is about to go into the army, as a present. I'm really chuffed as I got a bit of money selling them, but it sounds like they will give someone else another few years of service keeping them warmish in crappy conditions.

In reply to
Woodman:
i didn't get on with mine at all - i found it pretty chilly compared to a conventional synthetic bag, and very bulky.
however, i would say that if you are going to be bivvying in the wet (and i mean constant wet, with no chance to dry it out) then it might be a good option, as there seemed little difference between its capabilities wet or dry, and it dried out very quickly indeed - 20 minutes of breeze did it the world of good.
so, living out in the open in the highlands for a month, go for it - if you're using a bivvy bag/basha/tarp/bothy/tent for <week trips, then i'd just go with a conventional bag.
---
This topic has been archived, and won't accept reply postings.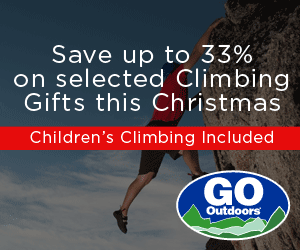 Elsewhere on the site
Tonight's Friday Night Video features the Norwegian town of Rjukan, once believed to be the home of the world's tallest... Read more
141219
0
With four photos in this week's top ten, and a UKC gallery of stunning images we thought it was time we had a chat with... Read more
141203
0
Rock shoes stink – let's face it. Boot Bananas are the perfect way to fight the funk and keep them fresh. They help... Read more
141219
0
F ounded in 1993, Mountain Hardwear are a pretty young mountaineering clothing and equipment manufacturer but are also one of... Read more
141216
0
Perhaps the perfect Xmas gift for the climber in your life... Wild Country's Crack School has two of the worlds best crack... Read more
141219
0