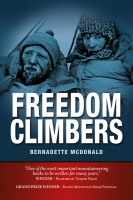 Canadian author Bernadette McDonald, whose book
Freedom Climbers
won the 2011 Boardman Tasker Prize, will be giving one of only two UK talks at Outside in Hathersage on Tuesday 20 November. Bernadette is making a brief trip to the UK to appear at the Kendal Mountain Festival. This event in Hathersage will be her only other talk in the UK and as such is not to be missed.
Freedom Climbers tells the story of the extraordinary Polish adventurers who emerged from under the blanket of oppression following the Second World War to become the world's leading Himalayan climbers.
It was described by the Boardman Tasker Prize judges as: "One of the most important mountaineering books to be written for many years."
Tickets are available from Outside - online or in store, and tickets will be available in the door.
Date:
Tuesday 20th November
Time:
7pm (for a 7.30pm start)
Where:
Outside Hathersage Café
Price:
£3
More information:
http://www.outside.co.uk/latest/news/Bernadette-McDonald-Lecture:-20th-November
More information about Freedom Climbers:
http://www.v-publishing.co.uk/books/biography/freedom-climbers-winner-of-the-2011-boardman-tasker-pr...