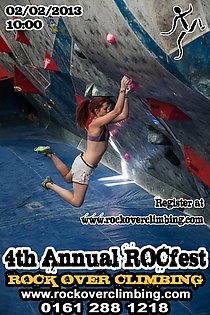 Here at
Rock Over Climbing
we've decided to bring a bit of excitement to the dreary month of February, and have moved our famous
ROCfest to the 2nd of Feb!
Earlier than last year, the ROCfest will be a great way of adding some fun fuelled excitement to your winter!
Last year's event saw well over 200 competitors, including some of the country's best climbers
(such as Shauna Coxsey, Leah Crane, Ned Feehally & Dave Barrans)
, and even James Kassay from the other side of the world (Australia).
And, with a
£2250 cash prize pot for the Adult Open & Age 11-15 Open categories (Cash Prize for 1st to 6th in Adults and 1st -3rd in juniors)
, sponsored prizes for all the other categories (11 in total!), and spot prizes/raffles throughout the day
(every 1/2 hour prizes given out for effort!)
, there's no reason not to come and join the fun!
With loads of categories, the ROCFest is
suitable for anyone,
, at any
ability level! So come on down, have a climb, some food and drink, and then watch some of the UK's best climbers battle it out in a spectacular final.
Previous ROCFests proved to be a huge success, with
AMAZING Climbing, ELECTRIC Atmosphere, GREAT Tunes, TASTY Grub and more prizes than can you shake a stick at!!!
So make sure you don't miss out as last year we ran out of space, make sure you
pre-register!
ONLINE REGISTRATON IS NOW OPEN
http://www.rockoverclimbing.co.uk/
Entry Fee is £10 per U16 and £12 per adult - FIRST 200 registered entrants get free Ltd Edition Rock Over Climbing ROCFest 2013 T-Shirt
The competition will consist of over 45 problems from which there are 30 for each category. Meaning everyone has a set which they can their teeth stuck into and have a great day out! For the 7-10 age groups we even add in a few extra holds!!!
And don't forget:
EFFORT PRIZES – every 20 mins during qualifying, be in the right place at right time and show effort and win!!!!!!!!!!!
FANCY DRESS – Very Special Prize for the winner
TEAM PRIZE A – Non Sponsored climber team prize, 4 person including 1 female, no sponsored climbers
TEAM PRIZE B - Sponsored climber team prize, 4 person including 1 female, no sponsored climbers
Male and female categories are as follows:
- Open
- Junior (11-15)
- Junior (7-10)
- Veteran (40+)
- Beginner
-Legends (Super Vets)
For more information please view our website
http://www.rockoverclimbing.co.uk
email us @
info@ro...
or call us on 01612881218