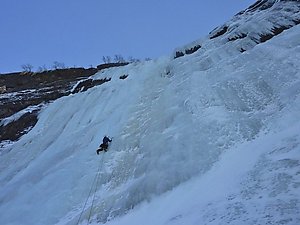 Norwegian ice climbing along the Sognefjord
I'm running an ice climbing trip to Aurland in Norway between
3rd - 10th Feb
this winter and have had friends pull out so have 3 spaces left in a luxury cabin.
It's a world class area for adventurous ice climbing and within a half hour drive we have access to 4 valleys and a road network open in winter from sea level to 1200m and climbs from roadside crags to 900m monsters!
I've been guiding ice climbing there for 8 years and have a good knowledge of where to go and what to do, so finding your way about won't be a problem.
I'll be with clients but you'll be free to do whatever.
The cost will be £180 for the cabin, £90 approx for share of the hire car and approx £60 for food... we usually cook together. Flights costs are about £230 from Aberdeen to Bergen and we'll be doing a pickup from the airport on the Sunday afternoon and returning the next Sunday morning.
It's a step up from Rjukan with only one or two other parties in the area and a lot more scope for climbing some astonishing lines.
The temperatures in Aurland have been below freezing for about 6 weeks and only now has a thaw come in for a few days. It'll be thick and fat as usual over there with the snow more settled than it was!
Link's to the cabin and some photos of the area are here:
please visit
http://www.aurland-fjordhytter.no/
please visit
http://www.flickr.com/photos/martwel/
If you are interested as a single or teamed up then let me know.
All the best.
Martin Welch