| | |
| --- | --- |
| | / Peak Winter Scramble - Friday 18th |
This topic has been archived, and won't accept reply postings.

Can anyone suggest a good "winter scramble" type route in the peak this friday?

By winter scramble I mean something that might require crampons and a walking axe, but isn't really pushing into grade I winter climbing. Probably just going to put the crampons/axe in the rucksack and go for a walk, but wondering if there's anywhere that's likely to see them get used.
In reply to
SCGale: In the absence of more qualified replies I'll pitch in with a couple of ideas. Parkhouse and Chrome Hills in the White Peak would present an entertaining winter walk with mild mountaineering flavours. In the High Peak going onto the Kinder plateau you have Red Brook as you head towards the Downfall from Hayfield, Grindsbrook from Edale and a few others dotted about. Crowden Clough is popular but has the steeper waterfall section and perhaps falls outside your remit for the day. I suspect Red Brook fits the bill best and has an entertaining approach along the River Kinder.
I have to say I have only done these routes in summer, when they attract a scrambling grade of about 0.5, but hear good things about them in winter. You could do worse than get a copy of the new Cicerone guide which covers both summer and winter grades and is very comprehensive:
http://www.cicerone.co.uk/product/detail.cfm/book/674/title/scrambles-in-the-dark-peak
Have a good day
Andrew
In reply to
SCGale:
Go for a play on Back Tor, you can stay on the easy side or drift into the Central Gulley as you gain in confidence, or just carry on playing on easier stuff. It's also a beautiful walk in if you go for Lose Hill Pike en route, or from the other side taking in Mam Tor.
My picture taken a few years ago to give you an idea...
http://www.ukclimbing.com/images/dbpage.html?id=108349

In reply to
Tony the Blade:
Red Brook on Kinder is a great summer scramble, but could be a challenging trip given the forecast; need to make sure you can navigate in winter conditions before venturing onto the Kinder plateau.
---
This topic has been archived, and won't accept reply postings.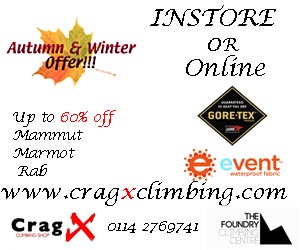 Elsewhere on the site
With four photos in this week's top ten, and a UKC gallery of stunning images we thought it was time we had a chat with... Read more
141203
0
Rock shoes stink – let's face it. Boot Bananas are the perfect way to fight the funk and keep them fresh. They help... Read more
141219
0
Tonight's Friday Night Video features the Norwegian town of Rjukan, once believed to be the home of the world's tallest... Read more
141219
0
F ounded in 1993, Mountain Hardwear are a pretty young mountaineering clothing and equipment manufacturer but are also one of... Read more
141216
0