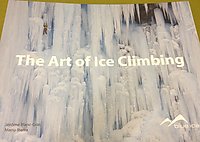 The Art of Ice Climbing by Jerome Blanc-Gras and Manu Ibarra.
Following in the footsteps of Chouinard's "Climbing Ice", this book covers aspects including formation of ice and how it evolves, equipment, techniques and the history of ice climbing.
With sections by climbers including Will Gadd, Tim Emmett, Mark Twight and Ueli Steck, The Art of Ice Climbing looks set to be the next "must have" book.
The Art of Ice Climbing will be available from Thursday 24th January, and can be ordered from your local retailer- see our stockist list here:
http://beyondhope.co.uk/stockists/
For more information and some images, please visit our Facebook page at Beyond Hope Climbing.