| | |
| --- | --- |
| | / GPS watch |
This topic has been archived, and won't accept reply postings.
Hi guys,
I'm looking for a GPS watch which gives me a grid reference to find my location in the hills, do these exist for a reasonable price, and if so any advice on the best buys would be great.
In reply to
timcook207: In the early days that was all I really wanted from a GPS.
Nowadays there are many aps for all manner of smart phones that'll do that for you. Switch your Phone GPS on, wait, get Grid reference, switch phone gps off.
Been there done that many a time for confirmation.
In reply to
timcook207: There seems to be two main ones:
Garmin Fenix and Suunto Ambit, both are about £300+
Garmin generally gets criticised for being buggy and having useless customer support and updates. But concerned more with the Outdoor / Walking functions than running.
Suunto is meant to bring out updates regularly and provide good support.
A comment I read was that Garmin Fenix was like a flashy house in a not so good neighbourhood whereas the Suunto was an average house in a good neighbourhood. The Suunto looks better made, the garmin looks fairly crude.
I just use a Suunto X6 and that just for Time and Altitude. The Alarm is rubbish and the backlight not much better. But the altitude is good.
I suspect a GPS watch is useful for runners but for walkers a small GPS or phone particularly since you can get a waterproof / resistant phone for less than above two watches and there are loads of GPS apps.
In reply to
timcook207:
I guess since you are asking about a GPS watch, then you've made up your mind you actually want a watch? If you have one of more advances Polar HRMs, it's possible they support the Wind3 GPS sensor and could display the grid coordinates (not sure, you need to check manual)
I was, however, considering the same problem last year and ended up buying an eTrex20 - it's just so much more useful. Normally, unless you need really exact position, in good weather you can navigate with a map without need for GPS. And then, when the weather gets bad and conditions suck the GPS unit like eTrex can really save ass. If you want, it can only display position and you can make your search on paper map, but I find it pretty cumbersome - it's way faster with the map you can upload to the device. Also, track following is much better than in the simple watch interfaces: you can:
- prepare your track before the trip using your PC
- save your track covered so far, so that it's easy to retrace
- upload someone else's track
- edit your waypoints (springs, bivouac sites etc) in advance
So, I went for such GPS unit and I a really satisfied. Of course, maps cost a lot of money, but there are good Open Map Source alternatives to most european countries (ie: in Spain there are perfect maps for the hills that are free or just for a small donation).
All the above doesn't mean I don't carry a paper map anymore, I do and I can use it, but map reading is a skill you can also practice using handheld GPS and when you really need speed (when conditions are getting bad and dangerous) the GPS with a map display is the way to go imho
Cheers
RS
In reply to
timcook207:
If all you want is a GPS that will give you a location, the cheapest option is an app on a smartphone that has GPS. The next cheapest option is a simple handheld GPS. Annoyingly, all the watches apart from the very expensive ones do all sorts of whizz-bang tricks but don't give grid references.
If you're interested in a handheld GPS, I have an old eTrex Summit(still works fine) for sale, for £40.
In reply to
timcook207:
What is the accuracy like on the garmin / suunto?
---
This topic has been archived, and won't accept reply postings.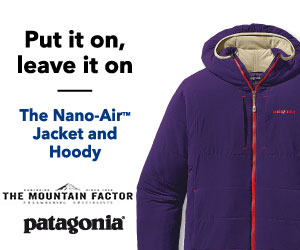 Elsewhere on the site
Rock shoes stink – let's face it. Boot Bananas are the perfect way to fight the funk and keep them fresh. They help... Read more
141219
0
With four photos in this week's top ten, and a UKC gallery of stunning images we thought it was time we had a chat with... Read more
141203
0
F ounded in 1993, Mountain Hardwear are a pretty young mountaineering clothing and equipment manufacturer but are also one of... Read more
141216
0
Tonight's Friday Night Video features the Norwegian town of Rjukan, once believed to be the home of the world's tallest... Read more
141219
0
Perhaps the perfect Xmas gift for the climber in your life... Wild Country's Crack School has two of the worlds best crack... Read more
141219
0