| | |
| --- | --- |
| | / The best food for your trips away |
This topic has been archived, and won't accept reply postings.
The best food for your trips away.
Ok, so when you are going away climbing, backpacking, mountaineering or.....you need to eat and you need to eat well. Making sure that you got plenty of calories and plenty of energy to complete your aiming task.
Everyone is keep saying that the best thing in the morning for breakfast is porridge. Correct, but last time I was in the Alps, nearly every morning I was eating porridge. So guess what I donít think I can eat porridge any more. You would say, hang on, you canít stop eating porridge after just one trip to Alps. Just to clarify, when I was a kid, I was attending pre-school learning group. And every single morning they were feeding us with PORRIDGE! I remember force feeding and harsh moment of feeling sick : Ė(. No more porridge for me.
Right now I am trying different combinations of good/ healthy/light weight foods. So far - no luck. I have tried sausages. Sausages first of all a heavy product, healthy (not so sure about that one) plus you feel very thirsty after eating them Ė(.
Sandwich? May be, but I tent to carry sandwiches with me on the hill.
Some other things I have tried but nothing right so far. Will keep on looking.
The best food in your backpack...I donít think I got a problem with pack lunch. As when I am stopping for snack break or lunch, I am starving to death, so I would eat anything! Usually, I got banana and apple, few sandwiches, packed of crisps and some kind of snack bar. But wait there is more (LOL)!!! In the recent past my friend Paul suggested to try Sainsburyís Taste The Difference Flapjack, now my favourite eatable thing in my backpack -), absolutely love it!
Lots of expensive bars on the market, but if you are going away 2-3 times a monthís it could be a bit pricey.
I have tried nuts and raisins on one of my trips, but after 5 days I could not eat them, as my jaws were so steve and I could not chew.
In the evening, if itís not a budget trip ĖPub/take away! If itís a budget trip I would cook some kind of pasta, or rice dish or well anything.
Looks like I got a problem only with my breakfast Ė(, maybe I always will, maybe I just donít like to eat breakfast! Time will show.

What have you got to eat in your backpack? What is your favorite breakfast?

In reply to
Kat4kgb: Eat what is simple to make, pack and eat. If it tastes good in the house then it will taste good on the hill.
For breakfast i like muesli with honey and yogurt and a cup of fruit tea sweetened up with little packets of sugar. Another one i like is tortilla wraps with jam and cream cheese, cheap and cheerful. Then on the hill its generally cheese and chorizo rolls, chocolate crepes (packet bought), flap jacks (can be homemade and in bulk) and maybe some energy gels if i have the spare cash. Pasta with chorizo and cheese at night.
High calories and a mix of slow and quick burning energy.
In reply to
Kat4kgb: my normal eatings look something like this in the hills.
breakfast - big helping of porridge (sorry) with added raisins/dried fruit. muesli wouldnt be a bad idea if you didnt mind having it with water rather than milk.
dinner - in the uk this will usually be 2-3 raisin/cinemmon bagels, easily prepared, not the tastiest but good enough so they're eatable. main thing is they are good sustainance on days where I probably wont eat often. in the alps i don't really want to carry the weight of lots of bagels so don't really have much of a dinner instead just snack through the day on cereal bars and the like.
tea - couscous i find is great for tea in the mountains. aldi do some very cheap and quite nice flavoured sachets which are perfect. i find 2 of them + a few bits of cut up sausage or chicken/anything to taste it up. super light to carry and super quick (2/3 mins) to make on a stove. add to that any bread that you happen to have and you've actually got a pretty tasty/filling meal!
most important thing for me is 'the top-out treat'. Usually some kind of super tasty cake. I always take something like this on climbs in uk winter/alps, well worth the extra weight for the moral support it gives you on those long cold belays knowing that when you hit the top you can have it. Be strict though and don't eat it halfway up!
Hope this helps,
James

In reply to
Kat4kgb:
My life is complicated by coeliac disease - I need a gluten free diet. So I have avoided porridge, but now there is gluten-free porridge. Old habits die hard, however, so here are some things I have for breakfast if I have a stove and want a hot breakfast:
Cake and custard. You can get steamed puddings in little plastic pots so the cake doesn't get squashed.
Custard and dried fruit.
Custard with dried fruit and bits of chocolate. (detecting a theme?)
A tin of sausages and beans (Heinz ones are gluten free). With dome gluten-free bread.
Tea. With condensed milk (you can get squeezy tubes of the stuff).
Cornflakes (or the breakfast cereal of your choice) with hot milk. And some sugar or honey.
---
This topic has been archived, and won't accept reply postings.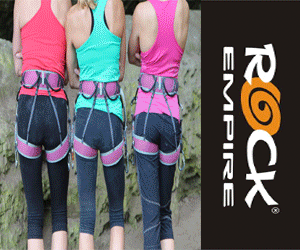 Elsewhere on the site
F ounded in 1993, Mountain Hardwear are a pretty young mountaineering clothing and equipment manufacturer but are also one of... Read more
141216
0
Rock shoes stink – let's face it. Boot Bananas are the perfect way to fight the funk and keep them fresh. They help... Read more
141219
0
Tonight's Friday Night Video features the Norwegian town of Rjukan, once believed to be the home of the world's tallest... Read more
141219
0