View latest messages in My Forums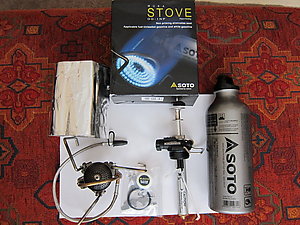 Price: £140
Used once in kitchen for a demo now surplus to requirements.
In reply to
zomarzi: no seriously i thought you might say why you are selling it. I wouldn't want to buy it if it has problems, did i read somewhere that they are not all they are made out to be. The advert looks great
In reply to
timmsy:
Good,
it's a great piece of workmanship, clean, adjustable with patience and frugal. I've simply had a change of plan and have now bought the OD-1R as I'm now a fully paid up member of the weight-weenies club.
BTW looking around I've pitched this too high so if you or anyone else is interested it's yours for £130.
In reply to
zomarzi: I am interested but going away for the weekend so you won't hear from me until tuesday - unless you are in glencoe this weekend and want to bring the stove with you.
where are you based please, i'm in Ripon,
In reply to
timmsy:
Bit to chilly for me to go roamin in the gloamin. I'm in Cardiff, my email is in my profile.
---
My Forums