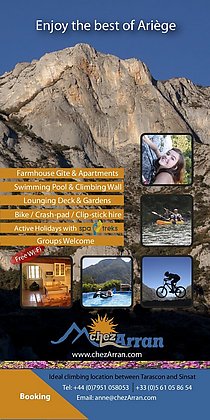 Great ARIÈGE base to CLIMB, HIKE and BIKE
Year-round rustic farmhouse accommodation nestled in a tranquil mountain setting with pool and gardens. Perfect for climbers, families, groups or couples. Maison La Montagne (sleeps 7-9), Apartment Lézard (sleeps 2-4), Apartment Cheval (sleeps 2-4) and Chambre le Chat (sleeps 2-3) is a spacious a double ensuite. 10-15 minutes from over 10 crags - and a new Rockfax to enjoy them with. Prices from £10 per person per night.
For relaxation we have:
A pool
WiFi
Slack-line
Decked lounge area with Thai cushions
Barbecue area and drinks fridge
Table tennis table
Indoor bouldering wall
Climbing topos, maps, MTB circuit plans and walking guides
Hire of mountain bikes, snowshoes, crash pads and clip sticks
Within 15 minutes there are over 10 fantastic limestone, granite and gneiss climbing sites ranging from single pitch gems to 350m big wall extravaganzas. A further 20 minutes gets you to the famous Dent d'Orlu, home to 800m fully-equipped routes up to 31 pitches!
Low crags are climbable in the sun on most winter days in a tee shirt and in summer perfect conditions can usually be found high on mountain crags or in the steep-sided valley crags around Niaux, where it is always possible to find shade.
We can cater for groups and clubs as well as families and can offer outdoor activities.
This year Spa Treks has come online http://www.spa-treks.com See what it has to offer including photography workshop "Ascend to New Heights" with Paul Hill (MBE) and Maria Falconer FRPS on 22nd-29th June 2013
Chez Arran is in the French Pyrenees, 1¼ hours drive from both Toulouse and Carcassonne airports and 10 minutes walk from a thermal spa!
The first 10 UKC members booking outside of July and August wlll receive 10% off
so be sure to mention this.
Check out our website for photos & area info
http://www.chezarran.com/accommodation.html
or our Facebook page on
https://www.facebook.com/pages/Chez-Arran/320358506480
Want to visit? Check the availability calendar here: http://www.chezarran.com/calendar.html and guest comments here: http://www.chezarran.com/accommodation.html

To contact email us at anne@chezarran.com

WELCOME!