| | |
| --- | --- |
| | / Llanberis ticklist |
This topic has been archived, and won't accept reply postings.
Hi all,

we will be spending 10 days climbing in northern wales. Got the "North Wales Rock" guidebook, which gives a good overview, but there's so much to climb there... So some recommendations for "must-do" routes around Llanberis would be most welcome!

No experience with the British grading system, so hard to tell which grades I will be looking at - have climbed sport up to French 7b+ with some trad experience, mostly on sandstone. Never climbed on slate or sea cliffs though... I'll probably have to start easy and try to work my way up to the lower E-grades.

Thanks!
Steffen
In reply to
swoe:
Consider f7b to be E5 (though the actual climbing on them might be f6c - F7a) then just keep going down the grades so F7a compares with E4; F6c compares with E3 and so on.
Not entirely accurate but it's not too far out and probably on the side of caution.
ALC
In reply to
swoe:
I'm not sure which N Wales guide book you have but it's probably safe to assume it has numeric (4c,5a, 5b,5c,6a etc etc) as well as adjectival grades (Very Severe, Hard Very Severe, E1, E2, E3, E4, E5 etc etc.) for each pitch. This might be a good place to start to assess the technical difficulty. It's generally understood that British 5b/5c equates to about French 6a/6a+/6b and so on - add 2 to the Brit grade for the French. Then modify to allow for the "trad" aspects. Some F6a might be only HVS; some could possibly be E2.
I've used these grades as this is about as hard as I've climbed so it's how I understand it. Pretty sure it'll work higher up the grading systems though.
Recommendations? Too many to list. My preference would be, if the weather is kind and the crags are dry, to climb as much as possible on the volcanic rock of the Snowdonia valleys and fells. Whatever happens go to Gogarth for beautiful and dramatic seacliff climbing, but remember it can also provide a wonderful bad weather alternative to the hills, as can Tremadog - great climbing in a very friendly environment. For me the slate would be a last resort but I know some people like it and of course it has many well known test pieces.
Enjoy your trip.

In reply to
swoe:
It sounds like you have the technical ability to do pretty much every classic line on Dinas Cromlech, so it's just a question of how happy you are trad leading; placing gear and/or long runouts.
I've done almost none of these routes but, Spiral Stairs is an easy route in the heart of the classic E grade climbs, so you can check out many of these routes. Dives/Better Things is a great lowish grade route.
When you're feeling good about trad climbing, Cenotaph Corner, Left Wall, Cemetery Gates, Ivy Sepulchre and The Thing are all E1 or E2, I think they all have good gear. Foil and Resurrection are harder with good gear. Memory Lane and Right Wall are harder with less gear.
Also great E1ish routes on Clogwyn Du'arddu (sp?), Tremadog, Dinas Mot, Gogarth.
---
This topic has been archived, and won't accept reply postings.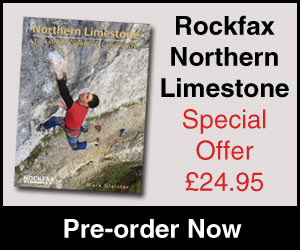 Elsewhere on the site
Perhaps the perfect Xmas gift for the climber in your life... Wild Country's Crack School has two of the worlds best crack... Read more
141219
0
PowerFingers is a simple, easy to use product which is incredibly effective for Climbers who require finger strength and... Read more
141222
0
F ounded in 1993, Mountain Hardwear are a pretty young mountaineering clothing and equipment manufacturer but are also one of... Read more
141216
0