| | |
| --- | --- |
| | / FREE GoPro Hero 3: Online Mountaineering research |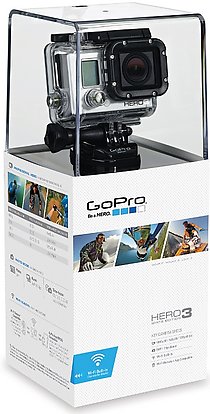 Mountaineers are needed to complete a Bangor University online questionnaire.
Your time would be greatly appreciated.
As such, everyone who completes the research questionnaires will be entered into a prize draw to win a brand new Go Pro HD Hero 3.
https://acsurvey.qualtrics.com/SE/?SID=SV_cIOhrFyYh0OwWZ7
Thank you.
In reply to
slowprogress: A long survey but one of the better ones. Well done.
In reply to
Martin1978:
Thank you Martin.
Indeed, the research team discussed, at length, how we could reduce the number of items whilst maintaining the quality of the data.
Since it wasn't deemed possible, we opted instead to offer the chance to win the very tasty prize as a means of recompense.
In reply to
slowprogress:
Decent Survey. Only critisism I'd say was Scale 4. It was very 'one extreme or the other' without having a middle ground option. For example the question about sex before marriage. I don't believe in no sex before marriage, but I certainly don't believe that someone needs 'considerable experience' as its worded in the survey. Could have done with a middle ground option.
Also, when is the prize draw being made? Wasn't mentioned as far as I could see!
Cheers.
In reply to
slowprogress:
It would be helpful if you made the term 'expedition' clear. South America, himalaya Greenland etc are clearly 'expedition' destinations but are you wanting people to include euro alps as expedition destinations? Or any mountaineering trip abroad eg ice cragging in Norway or North America.
James
In reply to
craig1983:
Thanks.
I am really grateful for your reply.
I totally agree with what you have said.
One of the (secondary) aims of the present research is to provide empirical justification for superseding the scale that you had issue with. This is primarily for theoretical reasons but also, as you pointed out, for methodological reasons too.
The draw will be made on the 14th of April. I'll post an update on this thread when the draw has been made.
In reply to James Edwards:
Thanks for your comment.
As you rightly pointed out the task of 'grouping' climbers is quite difficult due to the vast differences in participatory styles.
Hopefully both the closed questions but primarily the open-ended questions enabled you to specifically describe the level at which you participate. It is then a task for the research team to group people for comparison based on this data. It would be a lot clearer if I could share our 'method' with you all at this stage.
What I will do is post a link to the final article on UKC which should, in theory, clear up any confusion.
In reply to ALL UKC respondents:
THANK YOU very much and GOOD LUCK in the prize draw.
---

Elsewhere on the site
F ounded in 1993, Mountain Hardwear are a pretty young mountaineering clothing and equipment manufacturer but are also one of... Read more
141216
0
Perhaps the perfect Xmas gift for the climber in your life... Wild Country's Crack School has two of the worlds best crack... Read more
141219
0
Tonight's Friday Night Video features the Norwegian town of Rjukan, once believed to be the home of the world's tallest... Read more
141219
0
The release of Peter Jackson's new film The Hobbit: The Battle of the Five Armies on 12th December may not appear to link to... Read more
141212
0
Rock shoes stink – let's face it. Boot Bananas are the perfect way to fight the funk and keep them fresh. They help... Read more
141219
0