Just had two weeks in Sicily (San Vito) a great venue, well worth putting on the 'list'. There are around 450 routes within walking distance of the El Bahira camp-site (supposedly closed but has bungalows, caravans or tenting), the setting is lovely in a really wild corner of Sicily. The place was busier than we were expecting - having imagined it might have been completely deserted in late Feb/early March. The weather was a teeny bit unsettled, though we only actually lost one day through rain. Generally temperatures were fine, the crags dry quickly, access takes minutes from the accommodation, and as the cliffs face west, afternoons climbing were pure pleasure. Shops, bars, restaurants an beaches in 'town' - a five minute drive away.
Great setting: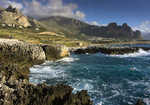 http://www.ukclimbing.com/images/dbpage.html?id=215312
Bumpy seas: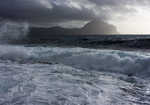 http://www.ukclimbing.com/images/dbpage.html?id=215315
From the road the cliffs look a bit scrappy, but the climbing was excellent almost without exception, the routes of all grades tend to be steep and the bolting is encouraging. Many of the pitches are very long and a bit on the sharp side - the norm for Med limestone I guess.
In summary - a great spot that deserves to become popular, the combination of sea-side setting, the great climbing, the easy accommodation and superb accessibility sure take some beating. There are 'only' around 600 routes in the whole area at the moment - compared to Kalymnos's 1700 - but that is a great starter - there is a lot of rock out there.
Top marks to Jim and Scott Titt plus all the other equippers have done us a great service.
A few climbing pics: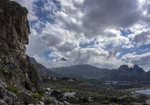 http://www.ukclimbing.com/images/dbpage.html?id=215308
http://www.ukclimbing.com/images/dbpage.html?id=215306
http://www.ukclimbing.com/images/dbpage.html?id=215309
Chris