| | |
| --- | --- |
| | / Sicily guidebook and advice |
This topic has been archived, and won't accept reply postings.

I'm toying with the idea of heading to Sicily around September time, does anyone have a guidebook they dont want/need?

Also does anyone have any suggestions for decent cheap places to stay? It will just be me and my girlfriend so ideally some sort of self catering room/small appartment type thing?

Crag suggestions are also most welcome, preferably with plenty of 5-6a+ and 6c-7b


Cheers

Simon
In reply to
maybe_si:
Going to be hot in September (too hot for me). Go to San Vito lo Capo (all the grades you want) and stay in a bungalow at El Bahira or in a small apt in town (any number of those).
In reply to
scott titt:
Its probably going to be end of September/start of October, still too hot do you think? Would it be any different to Spain around that time?
Which book is best?
Cheers
In reply to
maybe_si:
Getting better (cooler) by the day at that time of year. If going to stay in San Vito town avoid the Cous Cous festival (finishes 29 Sept, busy and high demand for apts). There are some shady crags, and it is easy to take a siesta and climb in the evening (crags are very accessible) The sea is lovely as is the El Bahira pool!
Guidebook-for just San Vito, Gebro Verlag, for all Sicily, Versante Sud.
As for a comparison with Spain, Spain is a big country with a wide range of climatic range!
In reply to
maybe_si:
We camped, loads of places available and there are numerous crags higher up that might be suitable, too.
Guidebook: Di Rocca di Sole, Climbing in Sicily (with english).
There is great stuff all over.
I'd say it's equally hot in Spain then and on Sicily you might be likely to catch a cooling breeze it being an island.
In reply to
maybe_si:
The guide book just for San Vito (the yellow one) is much better than the Rocca di sol (grey/black cover) guide. And it's cheaper! If you're only going to San Vito definitely get that one.
---
This topic has been archived, and won't accept reply postings.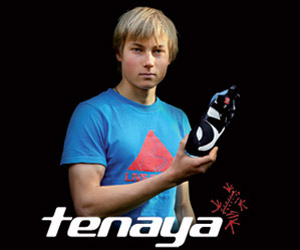 Elsewhere on the site
Rock shoes stink – let's face it. Boot Bananas are the perfect way to fight the funk and keep them fresh. They help... Read more
141219
0
With four photos in this week's top ten, and a UKC gallery of stunning images we thought it was time we had a chat with... Read more
141203
0
F ounded in 1993, Mountain Hardwear are a pretty young mountaineering clothing and equipment manufacturer but are also one of... Read more
141216
0
Perhaps the perfect Xmas gift for the climber in your life... Wild Country's Crack School has two of the worlds best crack... Read more
141219
0
Tonight's Friday Night Video features the Norwegian town of Rjukan, once believed to be the home of the world's tallest... Read more
141219
0