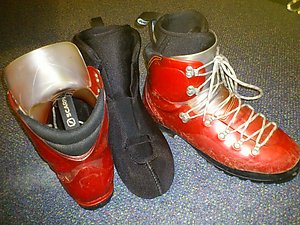 Scarpa Omega Boots.
Size: EU 47 / UK 11.5-12
£150 including registered postage. Price is negotiable.
RRP £329.99
Good condition. Outers used for a few weeks Scottish Winter. Liners used for 1 day.
Scratches on the front and a few on the sizes - these do not affect performance in any way.
They come with the new 'Scarpa Intuition Liners' which have only been worn for a day on Crib Goch.
Selling as they are slightly too big (not a problem for Scottish Winter, but I'm heading to the Alps this summer).
Scarpa say....
LIGHTER THAN ALL OTHER PLASTIC BOOTS, AND, LIGHTER THAN THE VAST MAJORITY OF LEATHER/SYNTHETIC BOOTS AVAILABLE!
Provides you with the durability of Pebax, the warmth of a ski boot (thanks to the Intuition liner) and the climbing grace and versatility of a leather boot.
All year round in the Alps from winter north faces and cascade climbing to summer trips up Mont Blanc. A light and technical approach to climbing in the Greater Ranges up to about 7000m and popular mountains like Mera peak and Island Peak.
http://www.scarpa.co.uk/mountain/omega/